Nothing ruins your main course like a bland frozen veggie side dish. While frozen vegetables can be just as nutritious as fresh varieties, they may taste less flavorful if they're not properly prepared.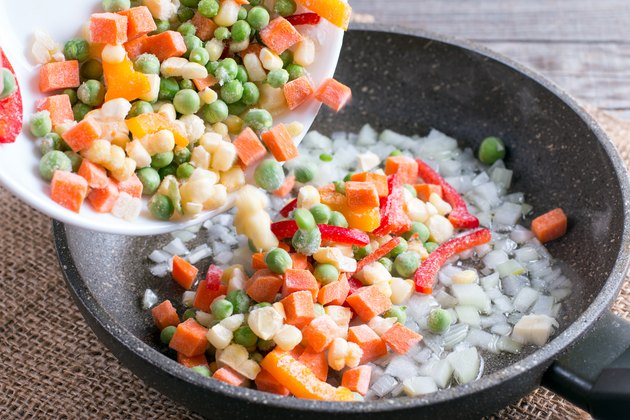 Give your frozen veggies the zest and attention they deserve with some creative seasonings and recipes. Ready to elevate your veggie dish? Top Chef Richard Blais has two quick and easy recipes to level up your frozen vegetables.
How to Cook Frozen Vegetables
Spices and homemade sauces are your best weapon against bland frozen vegetables. While you can always combat dull frozen vegetables with a good understanding of global spices and fresh herbs, salt is the most important ingredient in your seasoning arsenal, according to Blais. To bring your frozen veggie dishes to the test, Blais has two recipes for you to try.
Ingredients you'll need: Frozen peas, chicken stock, sea salt, garlic clove, diced onion, lemon, black pepper and mint leaves.
Cook the peas: Add half a bag of frozen peas to a cold pan and toss them with some sea salt, a clove of garlic and a tablespoon or two of diced onion. Cook until the peas are thawed and bright green.
Blend it: Add the cooked peas to a blender and toss in the rest of the bag of frozen peas. Blend with a cup or two of chicken stock until smooth. If the mixture isn't silky enough, add more chicken stock.
Season and garnish: Season your soup with some fine sea salt and olive oil. Garnish with a squeeze of lemon, a little black pepper and a few chopped mint leaves.
Ingredients you'll need: Frozen corn niblets, frozen lima beans or soy beans, chopped bacon, red pepper, kosher salt, chopped cilantro and lime.
Cook the bacon: In a pan, cook the chopped bacon on low heat until the meat is almost crispy. Then, remove the bacon but keep the fat in the pan.
Add frozen vegetables: Add your frozen corn niblets, beans and diced red pepper to the pan and cook it with the bacon fat.
Toss in the bacon: Add the bacon back in the pan with a pinch of kosher salt. Finally, toss in the chopped cilantro and add a generous squeeze of lime.
How to Pick Frozen Produce
While you may think fresh vegetables are more nutritious than their frozen counterparts, this is a commonly assumed myth, according to AARP. The nutrient density of a fruit or vegetable (whether frozen or fresh) depends on the season and proximity to the consumer. So, if you're buying berries in the winter, the frozen option (assuming it was frozen in the summer) is likely more nutritious.
Choosing the best pack of frozen vegetables at the grocery store requires some label reading. In addition to the date on the packaging, take a peek at the ingredients. When buying your frozen veggies, avoid the options with added sauce or seasoning, as they can tack on added sodium and preservatives, recommends the Academy of Nutrition and Dietetics. Also, be mindful of added sugar in your frozen fruit.
Is This an Emergency?
If you are experiencing serious medical symptoms, seek emergency treatment immediately.