A fit lifestyle includes resistance training exercises for your entire body. The pectoral muscles lie under your breast tissue, and depending on breast size, you may not see much definition. Females training their pec muscles will not increase or decrease breast size. What it can do is give your breasts a more lifted look and balance out your exercise program.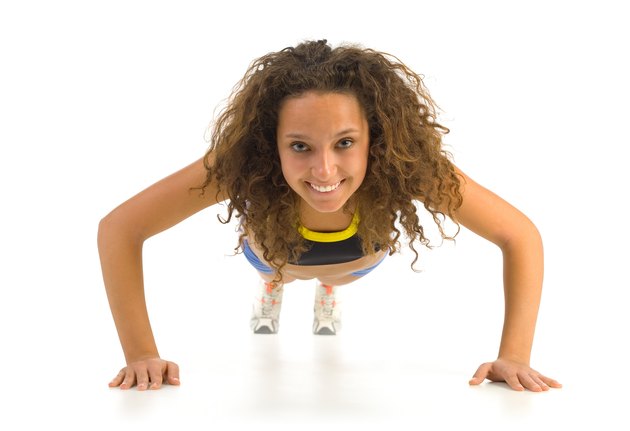 Anatomy of the Pecs
There are two muscles of the pecs -- pectoralis major and pectoralis minor. Pec major is the the larger of the two and is easily seen in well-developed men. There are two parts to the pec major -- sternal and clavicular. The sternal head originates along the sternum and the second through sixth ribs in a fan shape. The fibers come together to insert on your upper arm. The clavicular head is smaller and originates along your collar bone. It comes together with the other pec major fibers to insert on your upper arm.
Female Breast Tissue
Whether you have kids or not, female breast tissue was designed to produce milk, according to the American Cancer Society. It is made up of glandular tissue and supportive tissues. The glandular tissues are what make and deliver milk through the breast. The supportive tissues include fat, connective tissue and skin that give the breast shape and size. Your pecs lie under your breast tissue, so they may not be visible if you have large breasts. Also, working your pecs is not going to change your cup size.
Pec Exercises
You have numerous exercise choices to work your pecs. You can do pushups from your knees or toes on a mat. Free weights are useful for performing dumbbell flys or bench presses with dumbbells or a barbell. You can also change the angle and do flys and presses on an incline, flat or decline. If you are doing a full-body resistance training routine, choose one or two chest exercises as part of your workout. If you do a split exercise routine, try three or four pec exercises to shape your chest.
Training Recommendations
Train your pecs two or three times per week on nonconsecutive days. Do one to three sets of eight to 12 repetitions for each pec exercise. Rest about 30 to 90 seconds between each set. Choose a resistance that is challenging but allows you to complete your reps with proper form. If you combine your routine with cardiovascular exercise you can see a reduction in breast size. This is due to decreased body fat, not pec training.