Surgical removal of both ovaries is medically known as bilateral oophorectomy. Since the ovaries manage hormones that regulate the menstrual cycle, including estrogen and progesterone, removing the ovaries causes surgical menopause. The side effects of bilateral oophorectomy include all the symptoms of menopause in more severe form than would occur in natural menopause, because even in natural menopause the ovaries continue to produce low levels of female hormones. Treatment with hormone replacement therapy can't completely replace the benefits of natural hormones.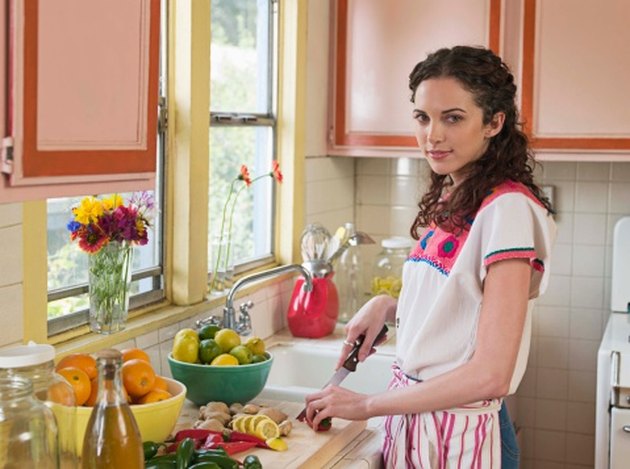 Menopausal Side Effects
The side effects normally associated with menopause occur after bilateral ovary removal. These include the inability to have children, cessation of menses, hot flashes, night sweats, mood swings, sleeplessness, fatigue and anxiety. Ovary removal can also affect sexuality by decreasing sex drive.
Medical Side Effects
Women who've undergone ovary removal are seven times more likely to develop heart disease. This risk is greater than that found in women who have gone through natural menopause. Oophorectomy also results in a drop in testosterone production. Decreases in testosterone and estrogen cause an increased risk of osteoporosis and osteoporosis-related bone fractures.
Women who have their ovaries removed before menopause and don't take hormone replacement until age 50 have an increased risk of developing cognitive problems, dementia and Parkinsonism, according to a study reported in "Neurology" in 2007. Women under age 45 at the time of ovary removal have a mortality risk over one and a half times that of women who have their ovaries. Estrogen therapy can help alleviate the increased medical risks from ovary removal. There seems to be no increase in medical side effects if oophorectomy is performed after a woman undergoes natural menopause.
Surgical Side Effects
Any surgery has side effects. Among the side effects of ovary removal are infection, abdominal pain, scar tissue formation, nausea, vomiting, anesthesia reactions, bleeding and fatigue. Nearby organs may be damaged during surgery as well.
Positive Side Effects/Benefits
Oophorectomy does have positive side effects. Women who carry the BRCA 1 and 2 unmutated genes reduce their risk of developing breast cancer by 50 percent and ovarian cancer by 90 percent. Prophylactic oophorectomy is being done in many of these cases. Symptoms of endometriosis are also greatly reduced after ovary removal.