Soccer in France is known as football and the national league is one of the most successful international teams in the world. The sport gained popularity in the country after the first World War. Soldiers played the game in the trenches during extended periods of downtime. They spread the game after returning home from the war. Soccer games occurred primarily in the army and prestigious universities before WWI.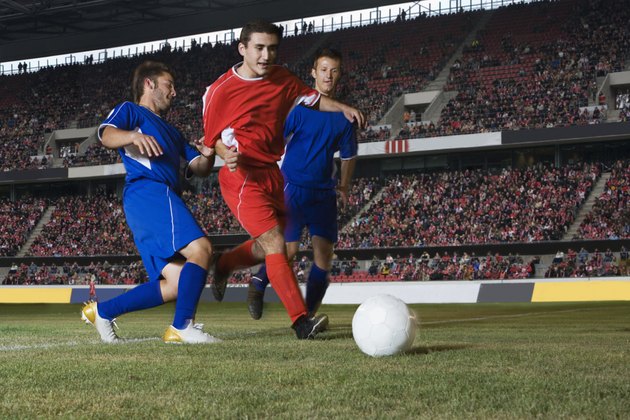 World Champions
The French national team played the final round of the World Cup for the first time in 1998 and became the seventh country to win the World Cup. That year the match took place at the Stade de France in Paris. Brazil experienced its worst world championship defeat yet, with a final score of 3-0. Zinedine Zidane led the team to victory, scoring two goals over Brazil. Zidane also won the FIFA World Player of the Year award that year.
Popularity
Soccer is the most popular sport in France. The French National Institute of Statistics and Economic Studies reports that 96,000 soccer licenses were issues in the country during 2009. Soccer is 2.5 times more popular than the second most popular sport, tennis. French Olympic soccer federations received more sporting licenses than any other single-sport Olympic federation in the country in 2009.
International Success
The national soccer team in France won the UEFA Euro in 1984 and 2000. UEFA European Championship showcases the most talented teams in Europe and includes a qualifying competition, playoffs and a final tournament. The French national soccer team won the FIFA Confederations Cup in 2001 and 2003. The Confederations Cup is an international soccer contest among eight teams in the year before an upcoming World Cup. Qualifiers include the previous World Cup champions and the national team that hosts the upcoming World Cup. The CAF Africa Cup of Nations, AFC Asian Cup, EUFA Euro Cup, CONCACAF Gold Cup, OFC Nations Cup and Copa America champions also participate in the Confederations Cup.
French Football Federation
The French Football Federation was founded in 1919. It oversees all aspects of professional and amateur soccer throughout France and French overseas territories. The Federation organizes, develops and monitors the way soccer is taught and practiced by establishing technical rules, assembling the national teams and issuing licenses. The Federation manages relationships with foreign soccer associations that are affiliated with the Federation Internationale de Football Association and other national or public authorities.