Walking is a form of cardiovascular exercise with numerous health benefits. It can help you burn calories for weight loss, improve your bone health, reduce your risk of chronic conditions like heart disease and diabetes, and tone the muscles in your lower body. To lose 2 pounds of weight per week, you need to burn 7,000 calories; this translates to 1,000 calories per day. Walking, in addition to cutting calories, can help you reach this goal.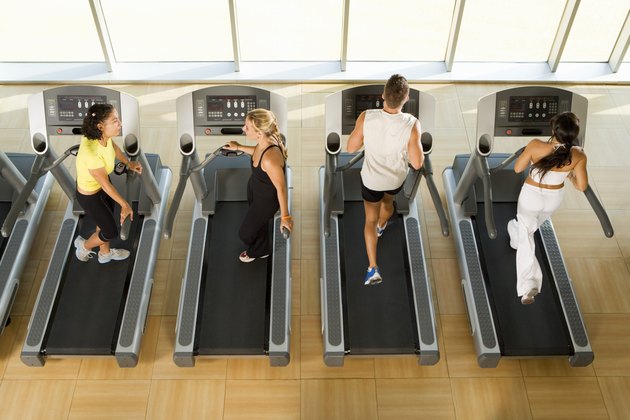 Step 1
Consult your doctor about weight loss. Your doctor will know what a healthy weight is for you based on your current health and any medical problems you may have. Your doctor can also help you design a walking program.
Step 2
Buy a pair of comfortable walking shoes. Buy shoes specifically designed for walking, not running or another sport. These shoes are made to support your feet during each stride. Test the shoes in the store before making a purchase.
Step 3
Track how many calories you eat per day. Write down everything you eat and drink. Use the nutrition labels on food packaging to calculate how many calories are in a serving, how big a serving size is and how many servings you actually eat. Add up the calories at the end of the day.
Step 4
Determine how you will burn 1,000 calories each day. You can walk enough to burn 1,000 calories or you can reduce calories in your diet and burn the rest of the calories by walking. For example, you can remove 600 calories from your diet and burn the additional 400 by walking.
Step 5
Walk enough every day to burn enough calories to reach your goal. Based on your age, weight, walking time, walking speed and gender you will burn a different number of calories each session. An online calorie calculator such as the one available at that HealthStatus website, can help you determine how many calories you burn. According to the American Council on Exercise, a 150-lb. person walking at a pace of 3.5 miles per hour will burn 126 calories in 30 minutes. This person would need to walk for a little over an hour and a half to burn 400 calories.
Tip
Increase the intensity of your workout by walking uphill or faster. Use the walk/run method of interval training. You can experiment with what works for you; but you can start by walking briskly for five minutes and then jogging for 30 seconds to one minute and then slowing to a brisk walk for the next five minutes. By upping the intensity you can burn more calories.
Warning
Check with your health-care provider before beginning an exercise program for the first time or if you have been away from fitness programs for a while, or if you have any chronic health issues.