With the popularity of yoga continuing to soar in the West, the cost to practice yoga has risen as well. Yoga teacher training programs vary widely in price, with some costing $5,000 or more, as of October 2013. The spirit of yoga also lies in service, or giving back. Many community yoga programs now offer classes by donation or even sometimes for free. Certain yoga teacher training programs have also applied this philosophy.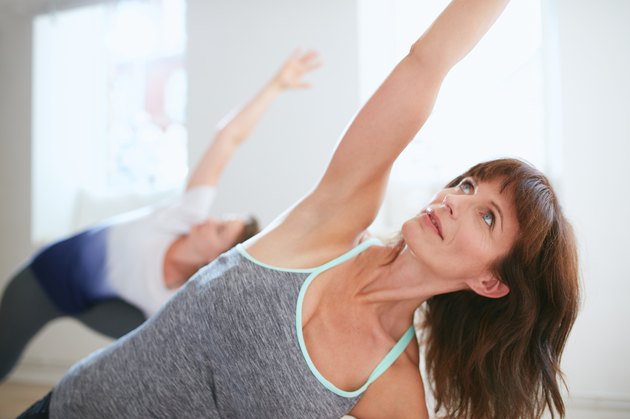 Aura Wellness Center
Aura Wellness Center, based out of Attleboro, Massachusetts, offers an online yoga teacher training program. Paul Jerard, who has been teaching yoga since 1987, offers a Yoga Teacher Training Camp-in-a-Box in which various styles of yoga are taught. He also offers specialist trainings in restorative yoga, kids yoga and prenatal yoga. The prices tend to be affordable in comparison with other training programs and the courses vary on what your interest is and how much you want to get out of a training. Jerard claims that by training at home, you can go at your own pace and take as much as time as you need.
Rishikesh Yog Peeth
To get a more culturally rich experience, travel to India where it all began. The Rishikesh Yog Peeth center boasts one of the most affordable training programs certified by the Yoga Alliance. Situated in Rishikesh, which is near the foothills of the Himalayas, the program includes three meals a day and separate accommodations. The program was founded in 2005 to revitalize the ancient practice of yoga and Ayurveda, or Indian medicine. Rishikesh is fondly known as the "yoga capital of the world" where thousands of seekers and pilgrimages are done each year for spiritual purposes.
Greenville Yoga
For yoga training closer to home, Greenville Yoga offers an affordable training in Greenville, South Carolina. The studio's philosophy is that all classes should be affordable and no one should be turned away based on lack of money. The teacher training program focuses on the Vinyasa, or flow style of yoga. It also focuses on breath control, or pranayama, yoga postures, or asanas, history, philosophy, ethics and ways to teach. In order to apply, you must have taken two classes with the owners. Classes are one weekend a month, which allows out-of-towners to participate.
Cincinnati Yoga School
Cincinnati Yoga School is another affordable option based in the U.S. The program is certified through the Yoga Alliance, and offers flexible payment plans for students. The program's goal is to offer tools for self-transformation. Students also have flexible options for when they would like to take classes because the program gives you up to two years to complete it.