The mind-body relaxation regimen of yoga dates to before 3,000 B.C. Yoga is designed to unite the mind and body for the common goal of improving body functions and healing the effects of stress. In the United States, yoga training is offered as a 200-hour certificate for aspiring teachers to learn more about how the practice affects the body. Some schools offer a 500-hour level, with an additional 300 hours of training on how to develop a yoga program professionally. It is also available as a continuing education component for other group fitness certifications.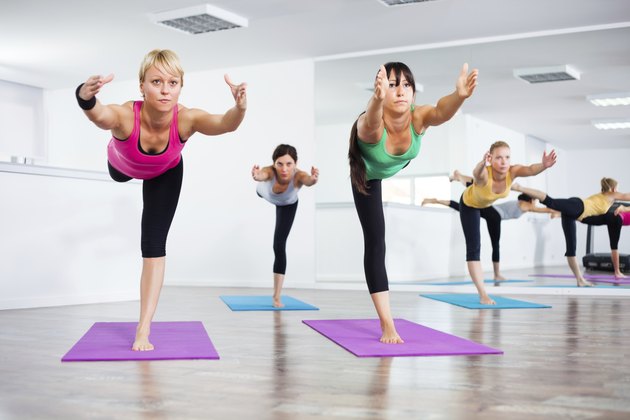 YogaFit
In 1994, YogaFit founder Beth Shaw developed one of the first fitness center yoga programs in the nation. By the end of the decade, she was designing training programs for other yoga instructors and offering them nationwide. YogaFit offers a pair of registered yoga teacher tracks at 200 and 500 hours. The 200-hour training includes five levels of program training, plus teaching components for senior citizens, anatomy courses and an elective for either pre- or post-natal yoga or children's teaching. The 500-hour program is a more intense program with modules on therapies, Ayurvedic medicine, intensive programs and electives in sweat, lean, plus, cancer, back or prop training. Course offerings can be completed online or in person at resorts in Oregon, Mexico or India.
American Council on Exercise
The largest accrediting agency for fitness trainers offers seven yoga programs, including continuing education programs and home-study courses. Two courses in the mind-body fitness bundle offer full continuing education credit hours to keep ACE certifications in group instruction current. It also offers online-based courses designed by YogaFit's Shaw that combine yoga to overall fitness teaching, strength-training and cyclist training.
White Lotus Foundation
The White Lotus Foundation, based in Santa Barbara, California, offers RYT certifications on a 200-hour track. White Lotus, founded in 1967, bases its curriculum on the function and origin of yoga as well as the various schools of yoga. According to White Lotus, "Modern scientific discovery is compared to ancient teachings" en route to a better understanding of the practice. The 16-day intensive yoga teacher trainings are offered four times each year at the center.
Healing Yoga Foundation
The Healing Yoga Foundation awards RYT certificates for 500 hours of training. It is accredited by the Krishnamacharya Healing and Yoga Foundation and is an authorized training in that school of yoga. The program includes 500 hours of training, spread out over two years, with a mix of classroom instruction and individual mentorships. HYF is based in San Francisco, but has offered programs in other cities.
YogaWorks
YogaWorks training program is based in San Francisco, but it offers regular classes in Southern California and New York City, as well as special programs worldwide. Established in 1990, its website claims that it teaches a hybrid of ashtanga and lynegar yoga with the goal of reaching a "balance of precision and flow." YogaWorks trains students for both the 200- and 500-hour certificates and provides continuing education programs.