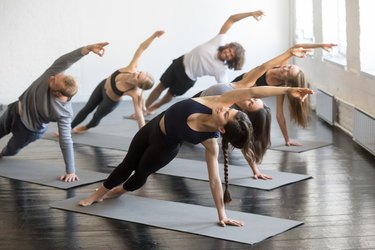 With the variety of group fitness classes offered at health clubs in every major city, getting fit has never been so fun. Les Mills, an innovator in group exercise class formats, offers many options — including the popular Body Pump — taught at gyms and available to stream online. If you like the benefits of mind-body practices such as yoga and tai chi, add Body Balance to your list of must-try classes.
The Facts
Body Balance — also called Body Flow — is a yoga-based class that also includes exercises from Pilates and tai chi. The workout is designed to center the body while lengthening and strengthening the muscles. Body Balance aims to strengthen the core, promote flexibility and focus the mind.
According to the Les Mills website, Body Balance is suitable for all levels. It provides a good introduction to yoga for those new to the practice and provides options for the more experienced. Body Balance is a low-impact exercise class, making it perfect for people who like a less intense workout. According to Les Mills, the workout burns up to 390 calories.
You can find Body Balance classes offered at gyms around the country, and you can also stream the classes online with a subscription so you can workout at home. The workout is done barefoot and a yoga mat is optional.
Class Features
Body Balance classes are 30 to 55 minutes in length. The class begins with a tai chi warm-up of flowing moves to center the mind and warm the body. Next, is a series of yoga and Pilates movements to strengthen and stretch the muscles. The class concludes with meditation and observation of the effects of the class on the body and mental state.
Benefits
Body Balance classes aim to increase strength and muscle tone and improve joint mobility and muscle flexibility. An equally important goal of the class is to reduce stress levels and improve mental well-being. With strength, flexibility and a calm mind, the body is brought into balance.
Considerations
Body Balance classes are formatted to accommodate a wide range of fitness levels. However, expectant mothers may need to take special precautions during class to ensure the safety of both mother and baby. Les Mills encourages expectant moms to consult their doctors before trying Body Balance.