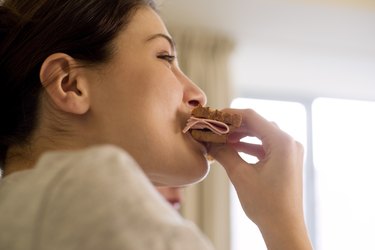 You may not typically think of bread as part of a low-carb diet, one that can lower the risk of heart disease, decrease triglycerides and help maintain weight loss. But many types and brands of breads are lower in carbohydrates than traditional varieties and can be a part of a low-carb diet.
Great Low Carb Bread Company
The Great Low Carb Bread Company offers eight varieties of lower-carb bread options such as plain sourdough, sesame, pumpernickel and rye. Each slice contains 60 calories, 8 grams of carbohydrates and 7 grams of fiber. This brings the net carb amount of each serving to only 1 gram of carbohydrate. You calculate the total amount of net carbs by subtracting the grams of fiber from the amount of carbohydrates in each serving, which provides the amount of carbohydrates that have a significant effect on blood sugar levels.
ThinSlim Foods
ThinSlim Foods offers seven different types of bread, each with 50 calories, 8 grams of carbohydrates and 7 grams of fiber in each slice. This gives each serving only 1 gram of net carbs. ThinSlim also offers lower-carbohydrate hamburger and hot dog buns, with a total of 100 calories, 16 grams of carbohydrates and 14 grams of fiber in each serving.
Sara Lee
The Sara Lee Delightful breads are lighter versions of their traditional varieties. Each slice contains 45 calories, 10 grams of carbohydrates and 2 grams of fiber. Each slice of Sara Lee Delightful bread contains 8 grams of net carbs. There are four types of bread available in the Delightful line.
Joseph's Pita Bread
The Joseph's brand High Fiber Plus Pita Bread was certified by the Glycemic Research Institute in 2010 to be a diabetic-friendly bread option. Each pita pocket contains 130 calories, 22 grams of carbohydrates and 9 grams of fiber. This brings the total net carb amount in each to 13 grams. Pitas can be used as an alternative to traditional bread for sandwiches -- simply load your ingredients into the pocket instead of arranging them on bread.