Graying hair, hair that loses its natural pigmentation and turns white or gray, is a natural process in aging. However, it can also be affected by your diet. Vitamin B-12 is an essential vitamin, and while gray hair is not one of the primary symptoms of low vitamin B-12 in your system, it can cause graying hair. Your hair can turn gray for other reasons, including environmental factors as well as the overall health and age of your body.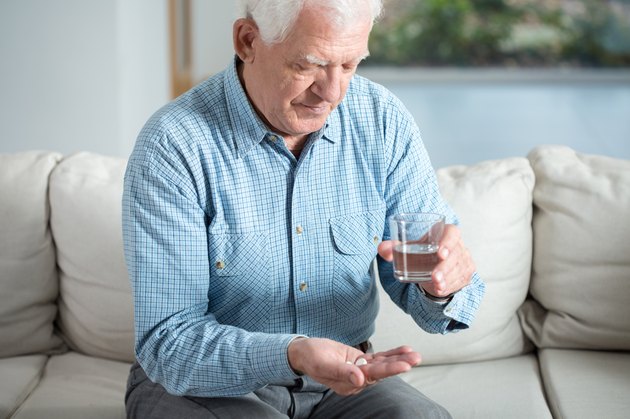 What Causes Gray Hair
All hair starts off as white and is then colored by melanin, a natural pigment, which determines the color of your hair. Melanocytes, the pigment cells near your hair follicles, inject that melanin into your hair as it grows, coloring it. As you age, melanocyte activity decreases, leading to less pigment in your hair and, gradually, white hair. Genetics plays a large part in when and how quickly your hair turns gray, although your chances of gray hair increase by 10 to 20 percent every decade after you turn 30. Other causes of graying hair including because of hormones and age, as well as external factors, such as exposure to chemicals, your daily climate and environmental toxins, such as pollutants.
Vitamin B-12 Anemia
Vitamin B-12 anemia, also known as pernicious anemia, is when you have a low red blood cell count because your body is lacking a substance that helps you absorb enough vitamin B-12. One symptom of vitamin B-12 anemia is gray hair; other symptoms include diarrhea or constipation, lack of energy, loss of appetite, pale skin, trouble concentrating, being regularly out of breath, bleeding gums and a swollen tongue. If left untreated, vitamin B-12 anemia can cause nerve damage, leading to dementia in severe cases, as well as poor balance, tingling in the hands and feet, and depression.
Importance of Vitamin B-12
Vitamin B-12 is vital for producing red blood cells, and it is also important to your metabolism and keeping your central nervous system functioning and healthy. As a water-soluble vitamin, it needs to be replenished regularly although your body can store it in the liver. Your body flushes out unused vitamin B-12 through urination. Low vitamin B-12 levels can result from aging -- people over 50 often lose their ability to absorb dietary vitamin B-12 -- as well as from gastrointestinal surgery. Certain digestive disorders, such as celiac disease and Crohn's disease, can also cause poor vitamin B-12 absorption. People who follow a vegetarian or vegan diet are at risk of vitamin B-12 deficiency because most vitamin B-12 is available in animal food sources.
Sources of Vitamin B-12
According to MedlinePlus, the best way to meet your vitamin B-12 needs is to eat a variety of animal products. Vitamin B-12 is found in high quantities in liver and other organ meats and shellfish, especially clams. It can also be found in varying amounts in all red meats, poultry, eggs, milk and dairy products. Some foods, such as cereals and grain products, are fortified with vitamin B-12. However, in general, your body absorbs vitamin B-12 from animal sources much better than from plant-based foods. If you choose to take a vitamin B-12 supplement, your body absorbs it better when it is taken along with other B vitamins, such as niacin, vitamin B-6 and riboflavin.