If you are dissatisfied with your height, blame your parents. Then stand in front of a mirror and observe your own contribution to your short stature. Take note of a forward slump, locked knees, sloped shoulders, sagging neck and tilted pelvis. Now stand up straight -- you might instantly gain a couple of inches. But you'll notice how difficult it is to maintain that posture because you are so used to slouching. Yoga cannot change your genes, but it can teach you to carry yourself properly, and help make good posture second nature.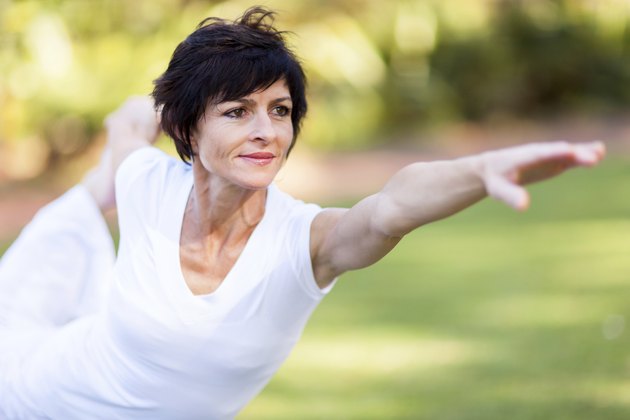 Your Height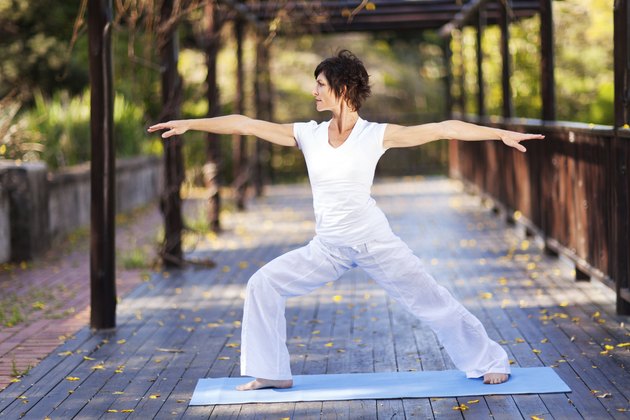 Your height is determined by your genes, barring any kind of illness or nutritional deficiency that might stunt your growth. Your bones are genetically programmed to grow to a certain point and stop, and yoga cannot change that. Nothing can change that, except certain types of surgery, but these surgeries are painful and involve a long recovery time, so they are usually reserved for cases where a bone deformity is present.
Height vs. Carriage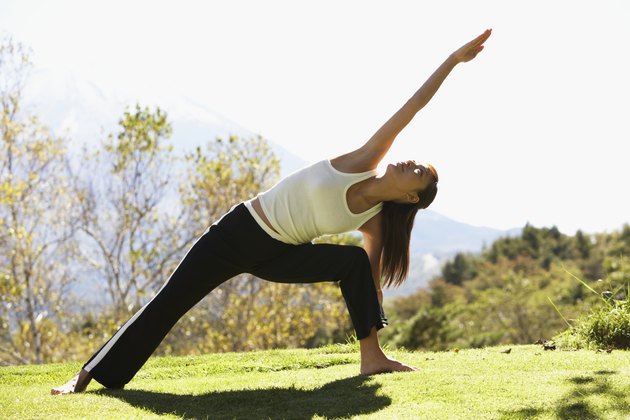 Even though it is not generally possible to increase the height of your skeleton, other factors contribute to the appearance of height. You can improve your posture and alignment so you can stand taller, carrying your body at its full height. For example, if you sit at a desk all day and go home and sit on the couch all night, you've probably developed a slight curvature of the spine and a roundness to your shoulders. The bones themselves aren't necessarily deformed, but the muscles that hold you erect have become lax and stretched out to the point that your body naturally assumes this position because it has become comfortable to you. Even when you stand up, you probably retain much of that slump, making you look shorter than you are. Yoga can help reverse this process so you can regain your true height.
Posture and Height
Spine lengthening and good posture is at the core of yoga. Even in Mountain pose, where you are just standing up with your hands by your sides, you are still actively lifting the top of your head toward the ceiling and pushing the soles of your feet into the floor. This helps stretch out your spine and get you comfortable with erect carriage. Inverted poses can actually decompress your vertebrae the same way an inversion table does. Most poses, or asanas, reinforce good posture through movement and breath work, and vigorous vinyasas and strength poses help you strengthen the muscles that hold you in your body's natural position.
Yoga and Alignment
When you have had poor posture for a while, you have likely fallen into bad habits. For example, standing with your hips cocked and your weight on one foot, or tilting your pelvis forward when you walk. These habits originate with poor posture, and they can visually decrease your height. Practicing yoga regularly helps align your shoulders, hips, pelvis and head, and teaches you how to move within your body's natural range of motion. Your body becomes stronger, more flexible and supple. You'll find that as your alignment improves and you stretch your spine, your posture will improve as well. You'll notice yourself standing taller, with both feet planted firmly on the ground. Not only will you look taller, but you'll also develop the grace of movement that comes with a tuned body.