Hamstring curls, also known as leg curls, are among the few gym machine exercises that specifically target your hamstrings. But if you think that means you're working out just one muscle, you're wrong -- the hamstrings are actually a group of three large muscles. Depending on your technique, your lower back and calf muscles may also be active during leg curls; practicing proper form to keep this involvement to a minimum helps focus the effort on your hamstrings.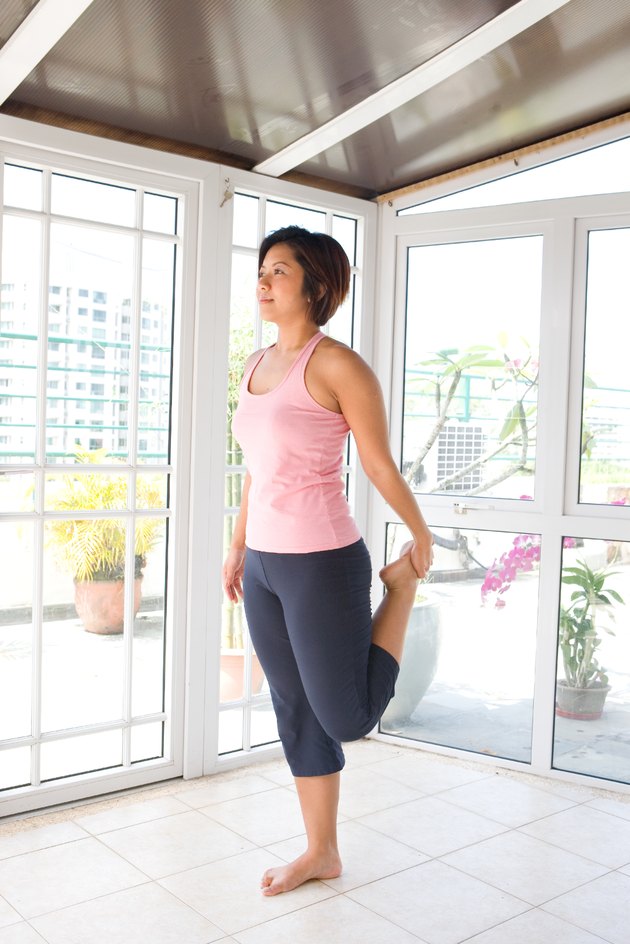 Hamstrings
Your hamstrings are made up of three major muscles: The biceps femoris, semitendinosus and semimembranosus. All three muscles provide the primary force to bend your legs at the knees, although individually they also assist with internal and external rotation of the knee. With the exception of one head of the biceps femoris, all three hamstrings muscles also extend your leg at the hip. The piked-hip position into which a prone, or face-down, leg curl machine puts you creates the optimal mechanical advantage for working all parts of your hamstrings.
Gastrocnemius
Your gastrocnemius, the largest and most obvious calf muscle, also crosses your knee. Because of this, it tends to activate during knee flexion. You can increase gastrocnemius involvement during hamstring curls by dorsiflexing your feet, or bringing your toes closer to your shins. Plantarflexing your feet, or pointing your toes, reduces gastrocnemius involvement and places greater load on your hamstrings.
Lower Back
Ideally, your lower back shouldn't be involved at all during hamstring curls. But if you try to lift too much weight or lift too quickly when using the prone hamstring curl machine, your lower back often flexes to take part of the load. Remember that proper strength training technique on any machine means moving slowly enough that you can count to two as you lift the weights, and lower them for a slow count of two or three. If your hips still come up off the padding while you lift at this pace, you're lifting too much weight to maintain proper form.
Abdominals, Upper Body
Some exercisers hold onto the handles of both prone and seated leg curl machines for dear life. But your upper body doesn't have much to do with keeping you in place -- if you're lifting the weights at a slow, controlled pace, a gentle, relaxed grip should be enough.
Your abdominal muscles, on the other hand, should be active during lying leg curls in particular. This combats your lower back's tendency to arch; think of keeping your belly button against your spine, or pressing your hips down against the pad as you bend your legs.