Kenpo is a Japanese term for "fist law"; karate means "empty hand." Kenpo Karate was founded by Professor William K.S.Chow in 1949. Ed Parker, one of Chow's most famous students, developed American Kenpo Karate, a style which is widely practiced today. Kenpo students learn to deliver fast combinations of kicks and strikes to thwart attackers. As skills advance, students progress through 10 different belt levels in American Kenpo Karate.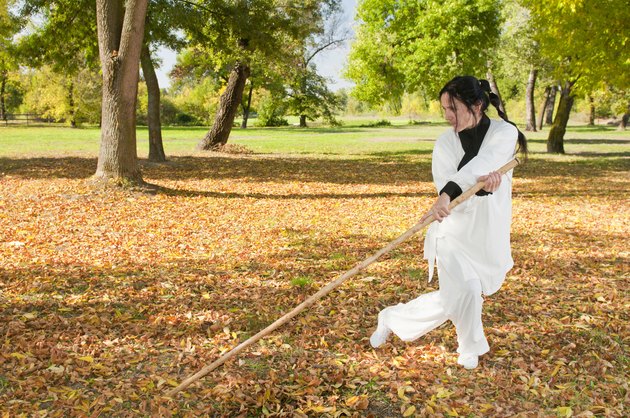 White and Yellow Belts
Beginning students wear a white belt. A yellow belt is the first belt for which you test in American Kenpo Karate. This rank has fewer requirements than the belts that follow. The minimum requirements for yellow belt include one kata. A kata is a prearranged routine of techniques. Short Form 1, which consists of blocking techniques, is the first kata; an additional blocking set is also required. To achieve the yellow belt, you must demonstrate 10 self-defense techniques, which are typically performed when an opponent is grabbing you. Kenpo's self-defense moves have names like delayed sword, deflecting hammer and captured twigs. These descriptive names help you to remember the maneuvers.
Orange, Purple, Blue and Green Belts
As you advance through your orange, purple, blue and green belts, you learn almost 100 more self-defense techniques. For each of these belt tests, you are required to demonstrate 24 self-defense techniques. Some of these maneuvers are crashing wings, repeating devastation and charging ram. Charging ram, for example, is a defense against a front tackle. You must demonstrate new katas to earn these belt ranks. Kicking, striking, stance, coordination and finger sets are also required at these levels.
Brown Belts
Brown belt is separated into three levels. You must test for third-, second- and first-degree brown belts. The third- and second-degree brown belts each require you to demonstrate 24 new self-defense techniques. The first-degree brown-belt self-defense moves, however, are not new techniques but extensions of the self-defense techniques that you learned when working toward your orange belt. New principles of motion are introduced within these techniques. Katas must be demonstrated to earn the different levels of brown belt. The katas typically get more complicated as you progress through the ranks.
Black Belt
To earn the black belt in American Kenpo Karate, you must demonstrate a staff set, displaying your proficiency with a wooden staff. You must also demonstrate a blocking set. The black-belt blocking set is more advanced than the original set learned for the yellow belt. The self-defense techniques at this level are the same as those required for purple belt; the black-belt self-defense maneuvers are an extension of the purple-belt techniques.