Handstands and Headstands turn you upside down and give you a whole new perspective on life. Reversing the effects of gravity, these poses cleanse, soothe, nourish and energize your body and mind. Inversions require you to bravely conquer any fear of falling thus building confidence. According to Jill Miller, creator of Yoga Tune Up, Headstands and Handstands help reset your inner rhythm, reverse aging and prepare your mind for meditation by activating your parasympathetic nervous system.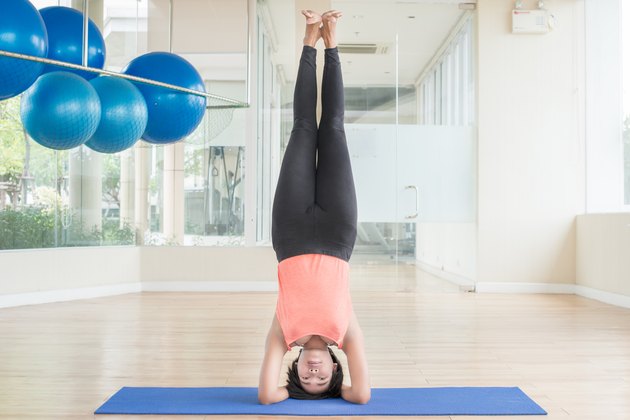 Inversion Benefits
Headstands and Handstands build your core strength by working the muscles in your abdomen and back. Developing a solid foundation is important for both poses. In Headstand, your head and arms support you; in Handstand, your weight rests on the palms of your hands. In both cases, you balance by rooting firmly in your foundation and lengthening your legs up toward the sky. Inversions reduce strain on your heart, expand your lungs to clear breathing, and increase the flow of blood to your brain to both calm and rejuvenate your mind.
Handstand Pose
According to B.K.S. Iyengar, author of "Light on Yoga," a Handstand strengthens your shoulders, arms and wrists, and expands your chest. You have the strength to do a Handstand, says Amy Cooper, an Iyengar-trained yoga teacher, if you can hold Downward-Facing Dog or Plank pose for more than 30 seconds without any discomfort in your wrists, elbows or shoulders. Plank pose also familiarizes you with weight-bearing through your arms.
Headstand Pose
A Headstand strengthens your neck and shoulder muscles, abs and spine. Because the top of your head connects to the ground, you also stimulate your pineal and pituitary glands, according to Erich Schiffmann, yoga teacher and author of "Yoga: The Spirit and Practice of Moving into Stillness." To protect your cervical spine, make sure you place the crown of your head on the floor so you're neither too far forward nor too far back.
Inversion Risks and Precautions
It's important that you do these poses correctly by being mindful of good alignment. The love-hate relationship many have with inversions is mainly due to the fear of falling. Always warm up before doing Handstands or Headstands and work with a certified instructor to prepare yourself to do the poses safely. Stabilize yourself by doing the poses next to a wall, with the help of your teacher or an experienced yoga buddy. And check with your doctor before tackling inversions if you have a heart condition, high blood pressure, eye problems or any injury in your head, neck, shoulders, arms, wrist or back, or if you are pregnant.