A big chest can be perceived as masculine, but not if it's flabby and consists of man boobs. Excess chest fat can negatively affect your appearance, and getting rid of it will require work. You must accumulate a caloric deficit through diet and exercise, so you lose weight from your entire body. You can't reduce fat from just one area, but when your total body fat reduces, your chest fat will also give in.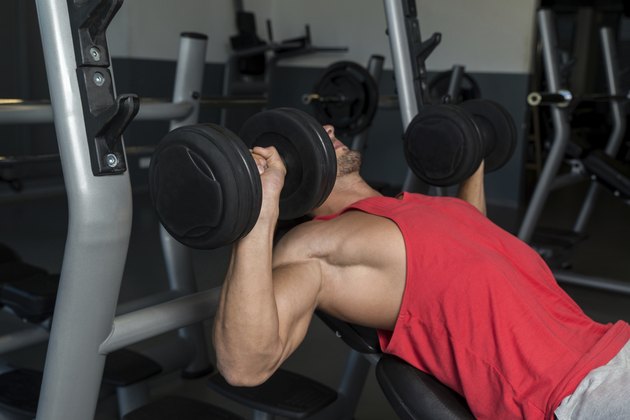 High-Intensity Intermittent Exercise
Research findings published in the "Journal of Obesity" show that high-intensity intermittent exercise, HIIE, is more effective in reducing body fat than any other form of exercise. This type of exercise is done by alternating between vigorous and moderate or low intensity. For example, accelerate from a jog or walk into an all-out sprint, or ride a bike or pedal on an elliptical machine at a low or moderate intensity before speeding up to an vigorous pace. The American Heart Association recommends doing this type of vigorous exercise for 75 minutes a week.
Full-Body Strength Training
Strength training at least twice a week can contribute to full-body weight loss and help flatten your big chest. Muscle tissue uses up more calories than fat just to exist. Your metabolism increases, and you burn calories even when you're at rest. Compound and combination exercises that work multiple muscles simultaneously can maximize muscle simulation and caloric burn. Aside from chest exercises, include lunges with lateral raises, squats with biceps curls, deadlifts, crunches, bent-over rows, lat pull-downs, and step-ups with shoulder presses.
Targeted Chest Exercises
Solely working your chest won't reduce the excess fat from it. It will, however, strengthen and tone your pectorals underneath the fat. When your chest fat reduces, your chest will appear flatter, but still defined. Muscle is denser than fat, so even though you're stimulating muscle tissue, you're still losing inches. Study findings by the American Council on Exercise show that barbell bench presses, the pec deck machine, and bent-forward cable crossovers, most effectively work the chest. Other exercises you can do include dumbbell flyes and pushups.
Things to Consider
Before starting a chest-flattening workout routine, consult a doctor, especially if you're plagued with health conditions or injuries. Understand there are 3,500 calories in one pound of fat; to lose one pound in a week from your entire body -- including your chest -- you must accumulate a daily deficit of 500 calories. Cutting calories from food contributes to your daily deficit. You can, for instance, drink water instead of soda and alcohol, or snack on veggies instead of chips. Fatty meats and full-fat dairy can be replaced with lean meats and low-fat or fat-free dairy. Turkey, skinless chicken, low-fat yogurt and fat-free milk are better choices.