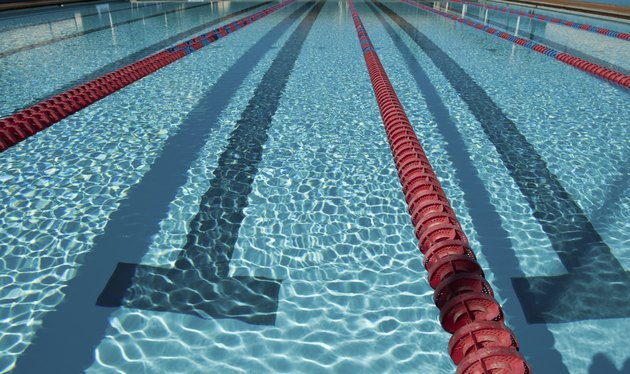 Swimming can be a competitive sport for young and old athletes. Whether you are a lifelong swimmer or new to the sport, try-outs for a swim team can be a stressful time. With dedication and training, you can increase your chances of making the swim team. Training regimens for swimmers should include regular swimming, strength and conditioning training, and cross-training when a swimming pool is not available to you.
Step 1
Show you are serious about swimming. Invest in a good swimsuit, goggles and a swim cap. These can be purchased at a sporting good store or a swim speciality store. Having the right equipment shows you are serious about committing yourself to the team.
Step 2
Start swimming as early as possible. If you know you want to join a swim team, get in the pool as soon as possible. Join a gym or a local pool. Having easy access to a pool will make it easier to train.
Step 3
Learn the basic swim strokes. If you can perform a variety of strokes, you can show your versatility, which may be beneficial to the team. The four styles of competitive swim strokes are the backstroke, breaststroke, butterfly and freestyle.
Step 4
Swim regularly. The National Academy of Sports Medicine recommends 30 minutes of cardiovascular exercise five days per week. Use swimming as your form of cardiovascular exercise.
Step 5
Cross-train. On days you cannot make it to the pool, participate in other forms of physical activity. Go for a run, ride a bike, use an elliptical machine or participate in aerobics. Other forms of cardiovascular activity will help to increase endurance.
Step 6
Perform dry land training. Work on exercises that target your legs, arms and shoulders. Complete leg extensions, shoulder presses and lift free weights. Focus on stretching your arms, shoulders and legs. Perform shoulder circles, shoulder shrugs, resistance band exercises, arm circles, hamstring stretches, quadriceps stretches and calf stretches.
Tip
Training and trying-out for a swim team is only half of the battle. If you are swimming for a school-related team, you will need to maintain your grades. Regardless of the type of team you are swimming for, you will need to continue to train to improve your times to stay on the team.
Warning
Training and regular practice does not guarantee that you will make the swim team.