While judo, karate and tae kwon do (or taekwondo) are all martial arts, they differ in many significant ways, starting with their disparate origins in Japan, China and Korea, respectively. The three martial arts differ as well in their objectives, techniques and associated risks.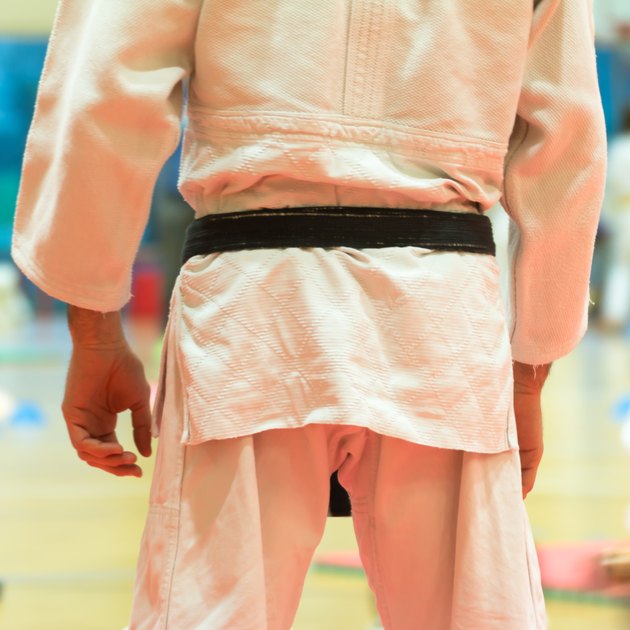 Origins
The recorded history of martial arts dates back to 50 B.C. in Korea with the emergence of taek kyon, the predecessor to taekwondo. Today's taekwondo contains influences from the karate of Japan, due to the Japanese colonization of Korea around the time of World War I. Karate is also considered a Japanese invention, though it developed on the island of Okinawa from Chinese martial arts techniques in the 17th century. Karate wasn't introduced to mainland Japan until the 20th century, where judo already had solid footing as a prominent national martial art, having developed much earlier from the similar but more combative ju-jitsu.
Etymology
Taekwondo is often translated as "the way of the hand and foot," tae meaning "jump," "kick" or "strike or block with the foot," kwon meaning "fist" or "to strike or block with the hands" and do meaning "the art" or "the way." Karate was originally called Tou Te, with te meaning "hand" and tou meaning "Chinese." When karate was brought over from Okinawa to Japan the word tou was changed to kara, which means "empty" or "open," though it can also mean "void" or "sky." Judo is usually translated to "the gentle way," ju meaning "softness" or "gentleness."
Techniques
Taekwondo techniques concentrate primarily on kicking maneuvers, with the arms used more for blocking than striking, while karate incorporates kicking and striking maneuvers more equally, utilizing both the upper and lower body for both defensive and offensive purposes. Judo concentrates primarily on defensive maneuvers, utilizing close-range grappling and throwing techniques to push or pull an opponent off-balance and bring him to the ground in a submissive hold. In both taekwondo and karate, opponents attempt to keep each other at mid-range distances to deliver the most power and momentum to their blows.
Risks
According to a study published in "Medical Sports Science" in 2005, the martial arts activities in which the highest incidence of pediatric injuries in both boys and girls occurred, as well as the types of injuries and body regions sustaining those injuries, were all unique to specific martial arts. Participants were most likely to sustain an injury in taekwondo from executing a roundhouse kick, in karate from delivering a punch and in judo from being thrown or executing a kick. In taekwondo injuries were most typically sustained to the lower extremities while in judo the upper extremities sustained more injuries. In karate the most frequent injuries were to the head and face, the most common being nosebleeds, while judo and taekwondo participants were more prone to sprains.