YogaToes are rubbery toe separators that separate the toes from each other, away from the ball of the foot and down from the top of the foot. They are designed to affect the muscles of the feet much like a workout or massage affects other parts of your body. According to the manufacturer, the use of YogaToes stretches the muscles of the legs, extends the Achilles tendons, improves foot arches, increases circulation in the feet and legs, and is a passive exercise for deep vein thrombosis.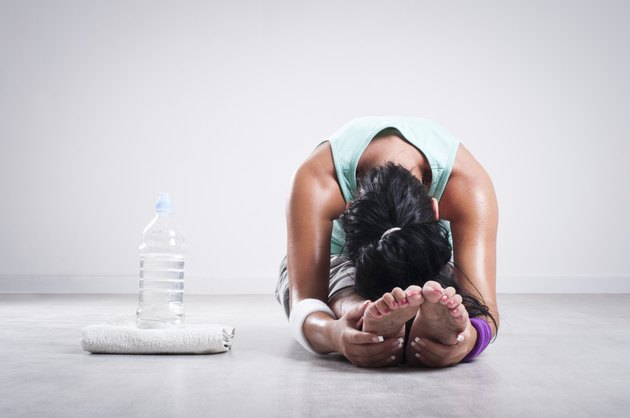 YogaToes and Foot Problems
Various foot conditions such as hammer toes, bunions, corns, plantar fasciitis, crossed toes and poor circulation are often improved by the use of this product, according to MyBadFeet.com. Exercise also can cause painful problems with the feet. Fitness activities such as walking or jogging, tennis, golf, aerobics, standing for prolonged periods or wearing tight fitting shoes can negatively affect the feet. YogaToes is designed to treat the occurrence of these foot ailments.
Thoughts From a Professor
Dr. Carol Frey, an assistant clinical professor of orthopedic surgery at UCLA, states that YogaToes are perfect for the foot-strengthening exercises that she often prescribes to her patients. Frey says YogaToes are helpful in preventing or relieving mild corns or bunion pain, especially for those who wear tight shoes or high heels, which squeeze the feet into unnatural positions. However, YogaToes would not be helpful for those suffering from moderate to severe foot pain or deformities, Frey says.
Dr. Oz on Bunions
According to Dr. Mehmet Oz, heredity or ill-fitting shoes can cause bunions. He says you can get relief from your bunions by using YogaToes. He suggested putting the gel-type YogaToes in the freezer for the soothing effect it will have on your bunions.
Using Yoga Toes
Slightly moisten the YogaToes to glide easily onto your foot. Begin wearing the YogaToes for 10 to 15 minutes and working up to an hour per day for optimum results. The device can be worn in the bathtub, pool, sauna, or anytime that you need to relax. YogaToes should fit close to the webbing of your feet and might be slightly uncomfortable at first. Purchase the appropriate size, usually small for women and medium for men.