The reasons for avoiding alcoholic drinks during weight-lifting are obvious. Alcohol can impair your coordination and interfere with your muscle gains. What you may not know, however, is that drinking alcohol right after lifting weights can be just as damaging to your efforts. The real muscle-building work within your body is just beginning once you put down your weights, and alcohol impairs the process.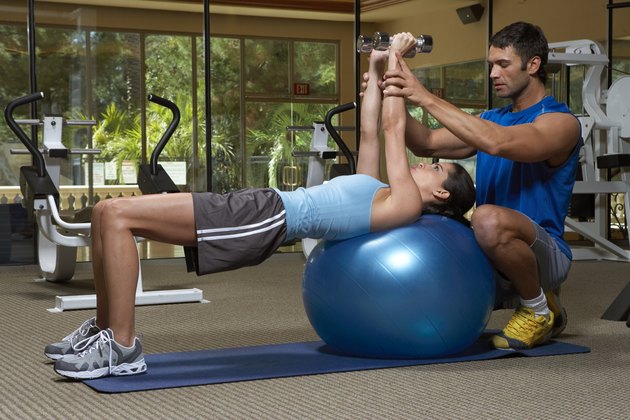 Significance
Drinking after you lift weights may cancel out any gains you would have received during your workout, according to the University of Notre Dame in Indiana. Your body gains muscle during the rest period following a lifting session when it recuperates and repairs itself. The repair and growth period takes about 72 hours after a muscle has been worked.
Growth Hormone
Alcohol inhibits growth hormone, which is essential for protein synthesis needed for muscle building after exercise. In fact, alcohol can decrease secretion of this hormone by 70 to 75 percent, according to Patricia N. Prinz, lead author for a 2011 study published in "The Journal of Clinical Endocrinology and Metabolism." This hormone is responsible for signaling your muscles that they need to grow stronger and bigger. Both heavy bouts of drinking and chronic alcohol use have this effect, Prinz notes.
Protein Synthesis
Alcohol inhibits other prompts in your body for the protein synthesis that is critical for muscle growth, notes Charles H. Lang, lead author for a 1998 study published in "Endocrinology and Metabolism." The net effect is slower protein synthesis. A bout of heavy drinking can decrease overall body protein synthesis by 41 percent. The effects are most pronounced in muscle protein synthesis, which may be reduced by 75 percent, according to a 1986 study by Julia M. Tiernan and Leigh C. Ward published in "Alcohol and Alcoholism." The effects on protein synthesis vary by tissue. Protein synthesis is slowed by 60 percent in your liver, 45 percent in your heart and 73 percent in your spleen, for example, according to Tiernan and Ward. The balance of proteins in your muscle tissues depends on rates of protein degradation versus protein synthesis.
Decreased Performance
Drinking alcohol after one workout may make the next one harder. When alcohol is absorbed through your gastrointestinal system and then into your cells, it disrupts the water balance in your muscle cells. This harms the cells' ability to produce adenosine triphosphate, or ATP, a top energy source for your muscles, according to Montclair State University in New Jersey. When your body loses water, 40 percent of the loss comes from your muscles and 30 percent from your skin. Your body needs adequate water for its metabolic pathways to work properly, such as ATP synthesis, and for your cardiovascular system to function well. Water also is necessary for your body to regulate its temperature and for neuromuscular function, according to "Sports Medicine," by Anthony A. Schepsis and Brian D. Busconi.