If you are considering taking up a martial art, you might be overwhelmed by the hundreds of options available. The art of war has been practiced by most cultures for thousands of years. East Asian martial arts are some of the more common choices, although other varieties like jujitsu and krav maga also are on the rise.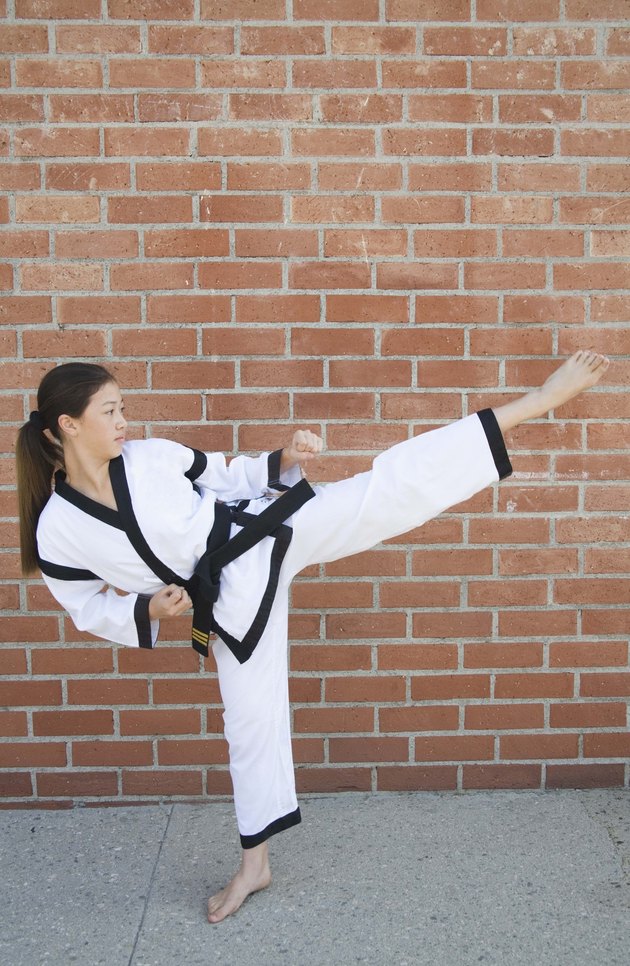 Karate
Karate is a Japanese martial art that originated in Okinawa. The word karate means "empty hand" and refers to its weaponless method of defense. Hands and feet are the only weapons allowed in karate. Students progress through various levels, each denoted by a specific color of belt. The color progression is white, orange, red, yellow, green, purple, purple with white stripe, brown, brown with one white stripe, brown with two white stripes and black. There are 10 levels of black belts. A typical karate practice is divided into three sections: drills, simulated combat position practice and sparring.
Kung Fu
Technically, kung fu is a general term used to classify the Chinese martial arts. It was originally practiced by Chinese monks and considered to be a means to enlightenment. Kung fu was originally called "ch'uan fa," or "way of the fist." Kung fu is composed of hard, or external, martial arts, as well as soft, or internal, martial arts. Hard martial arts emphasize defense and external movements, whereas internal martial arts focus on training the mind and character.
Taekwondo
Taekwondo originated in Korea, where it was called "subak" or "taekkyon." The words "tae," "kwon" and "do" mean "foot," "fist" and "discipline." According to the World Taekwondo Federation, taekwondo is one of the most systematic Korean martial arts, which accounts for its inclusion in the Olympic Games. Taekwondo significantly increased in popularity after the end of the Korean War. One distinguishing characteristic of taekwondo is its emphasis on foot movements like kicks.
Making a Choice
Karate, kung fu and taekwondo all emphasize punching and kicking, whereas martial arts like jiujitsu, aikido and judo focus on grappling and throwing. In order to choose which is best for you, attend a sample class of each. Keep in mind that all three forms are meant not only to teach self-defense but also to encourage personal development and improvement. In addition to observing a class, it might be helpful to study the philosophy that underlies each system.