Gastroesophageal reflux disease, or acid reflux, is a chronic digestive disorder that causes stomach acid to flow back into the esophagus. The acid irritates the esophageal lining and causes discomfort for the sufferer. If you suffer from GERD, some abdominal exercises such as sit-ups or crunches may worsen the symptoms. However, there are some simple yoga exercises that can strengthen the abdominal muscles and may also help to relieve the symptoms of acid reflux.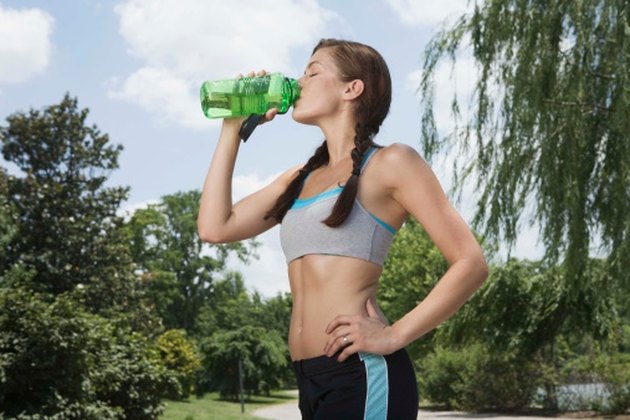 GERD
Although most people experience heartburn and acid reflux from time to time, if the symptoms of GERD occur more frequently than twice per week and are affecting your life, this may be a sign that you are suffering from gastroesophageal reflux disease. Symptoms of GERD include pains in the chest, heartburn, burning in the mouth and throat, difficulty swallowing, sore throat, dry cough and acid reflux. You should seek immediate medical attention if you are experiencing chest pain.
GERD and Exercise
People who suffer from GERD tend to be less physically active than non-sufferers. This is usually because people with acid reflux are afraid that exercise can worsen their symptoms. Certain types of exercise such as jogging, cycling or weight lifting may indeed increase the symptoms of acid reflux, but abdominal exercises used in yoga will not increase symptoms and may even help to alleviate them.
GERD and Yoga
Although there are no exercises in yoga that are designed specifically to help GERD, some postures can improve digestive processes and improve the health of digestive organs. They can alleviate GERD symptoms in two ways; directly by toning the organs, and indirectly through relaxation. Effective exercises include the easy pose, the dog pose, the locust pose and the cat pose. Pranayama, or breathing exercises, are also beneficial as the improve circulation to the digestive organs and help to alleviate stress and tension. Breathing exercises can be done in any yoga position. Breathing should be regular and deep enough to expand and contract the abdominal muscles.
Considerations
To prevent GERD while exercising you should exercise on an empty stomach, avoid exercises that have triggered acid reflux in the past, drink water rather than sports drinks, exercise regularly and maintain a healthy diet. If you suffer from GERD, talk to your doctor about which types of exercise may be more suited to your condition.