Every so often, a rumor crops up that doing full pushups -- or doing pushups at all -- is bad for women. But that's all they are -- rumors. For the vast majority of women, doing pushups isn't just acceptable, it's also a great way of building the upper-body strength to tackle everyday tasks or work closer to your fitness goals.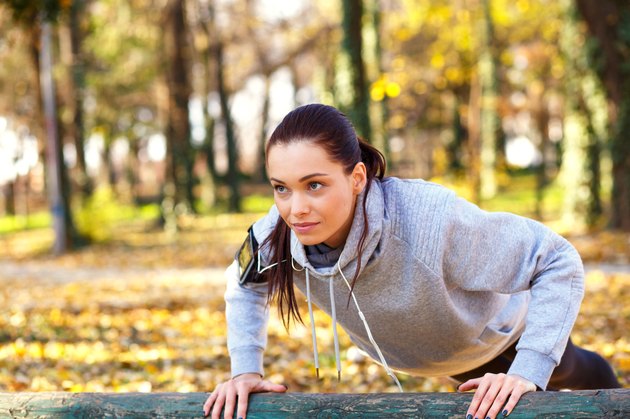 Building Up Strength
One of the reasons sometimes given for women not doing full pushups is that they lack the physical capability. But the truth is that almost every woman has the potential to do full pushups -- she just has to develop that potential, starting with modified knee pushups, wall pushups or other chest exercises like dumbbell presses, all of which build stronger chest, arm and shoulder muscles. Planks and other core exercises will build the core strength necessary to hold yourself in a full pushup position -- on your toes, not your knees -- with good technique.
Don't Believe the Lies
Another common fallacy regarding pushups is that a busty woman's breasts may get in the way. In the unlikely circumstance that breast size really is an issue, it can be remedied by wearing a sports bra. Others claim that women's bodies are simply built differently, with more core, hip and leg muscles than upper-body muscles. But women still participate in everyday activities that use the same muscles a pushup works -- all the more reason to train those muscles with pushups and other chest exercises.