Calling it arm wrestling is a bit of a misnomer. To succeed in arm wrestling, you must get your entire upper body into the movement as you pin your opponent. Some muscles, such as those in your forearm, are more important than others, but they all work together to give your arm the power to defeat your competitor.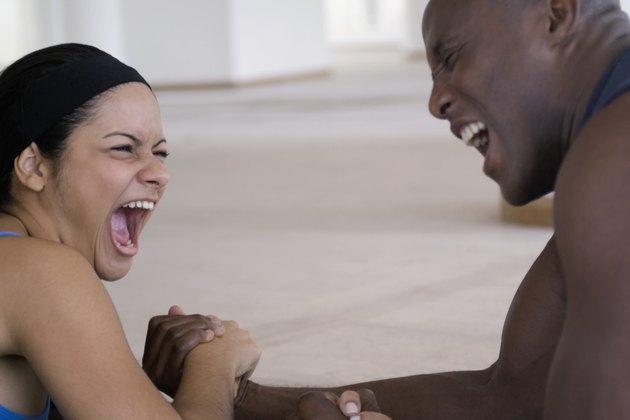 Hands and Forearms
Some of the most essential muscles in arm wrestling reside in your hands and forearms. A strong grip helps you control the movement, sometimes forcing your opponent's grip to become looser or pushing back his wrist to give you the leverage necessary to pin him. Hand grip strength and forearm strength are tied together, and the forearm muscles are key in helping keep your elbow locked and in place on the table.
Other Arm Muscles
The rest of your arm is key to stabilizing and locking your elbow as well as providing pressure to push over your opponent's arm. Your biceps and triceps work together to keep your arm steady as you strain against your competitor. Many arm wrestlers like to pull their elbows in toward their bodies after gripping their opponents' arms, and your biceps and triceps are key to this movement.
Shoulders and Back
Getting your shoulders into the action gives you more power when you go for the win. When you think your opponent is positioned to lose -- such as when you've pushed his hand back past center -- rotate your body so it's positioned slightly outside your wrestling arm. This position allows you to draw on the power of the shoulder muscles, especially the deltoid, to push down on your competitor's hand. Your upper-back muscles contract and add force to your shoulder muscles, stabilizing them as you rotate your body.
Chest and Stomach
Your pectoral muscles in your chest also add power as you rotate your shoulder to finish your opponent. These muscles connect through the shoulder to your biceps, adding stability during the battle. Tightening your abdominals as you wrestle brings strength from your core to help hold your body stable, allowing you to focus solely on keeping your forearm upright until you can crush your competitor.