You take extra steps while you're breastfeeding to ensure that you're supplying enough nutrients for you and your nursing baby, but some foods, such as raw eggs, may raise concerns for you. Completely cooking all foods, whether eggs, meat or seafood, can ensure that you and your baby do not contract certain illnesses.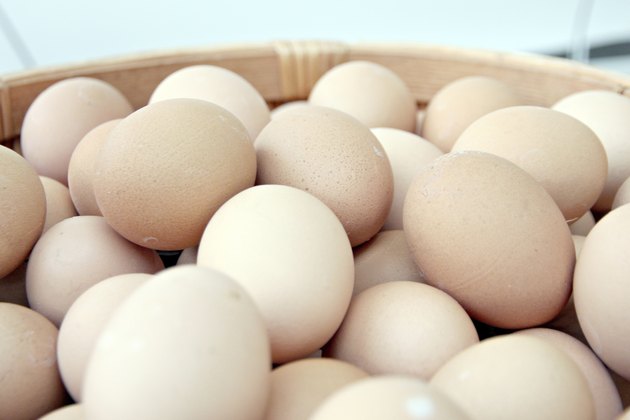 Breastfeeding
Breastfeeding offers a wide array of nutrients and antibodies that your baby might not get from formula. Breast milk contains the balance of nutrients that your baby needs to grow, thrive and become a healthy toddler. The antibodies found in breast milk help protect your baby from certain illnesses and infections. Certain substances, such as illegal street drugs, prescription medications and alcohol, can pass through your breast milk and harm your baby.
Raw Eggs
Raw eggs are not ideal for anyone, whether you're breastfeeding or not. Consuming raw eggs puts you at an increased risk of developing salmonella, according to the National Digestive Diseases Information Clearinghouse. This is also true for eggs that are undercooked. Raw eggs are sometimes found in foods such as raw cookie dough, homemade Hollandaise sauce, salad dressings, frostings and tiramisu. Symptoms of salmonella include stomach cramps, nausea, vomiting, diarrhea and fever.
Putting Your Baby at Risk
Should you consume any foods with raw eggs, or drink raw eggs, you need not worry about passing salmonella onto your baby while breastfeeding, according to the Breastfeeding Basics website. When salmonella enters your body, it typically affects -- and remains in -- your intestinal tract, which means your breast-milk supply, is safe. While you do not have to worry about passing salmonella onto your baby, you still run the risk of becoming dehydrated, which can also be bad for your nursing baby.
Dehydration
Staying hydrated, especially while nursing, is extremely important. Even if you become sick, Breastfeeding Basics recommends continuing to nurse your baby. When you contract an illness, such as a virus, your body will produce antibodies, which are passed to your baby as he nurses. When you become dehydrated, your milk supply may decrease. You need plenty of water to produce enough breast milk. If you find that your breast-milk supply has significantly decreased, drink more fluids. If your baby is not getting enough during your breastfeeding sessions, you may need to supplement. Pump some breast milk and keep a small supply frozen until it is needed. Toss out expired breast milk and pump fresh breast milk to ensure that you always have the freshest breast milk on hand in case you should become dehydrated or too sick to nurse your baby.