Triphala guggul, or guggulu, is a popular herb found primarily in India and has been used in the United States as a natural remedy for several conditions. Triphala guggul has been reported to remove toxins from your body, maintain healthy cholesterol levels, support weight management, and maintain proper digestion and food absorption. Guggul comes from the Indian bedellium plant, and triphala guggul is extracted from its bark. Resin is extracted from the bark and placed into capsules and sold commercially in the United States. Like all herbal supplements, triphala guggul is not regulated by the Food and Drug Administration and is not meant to treat any medical condition.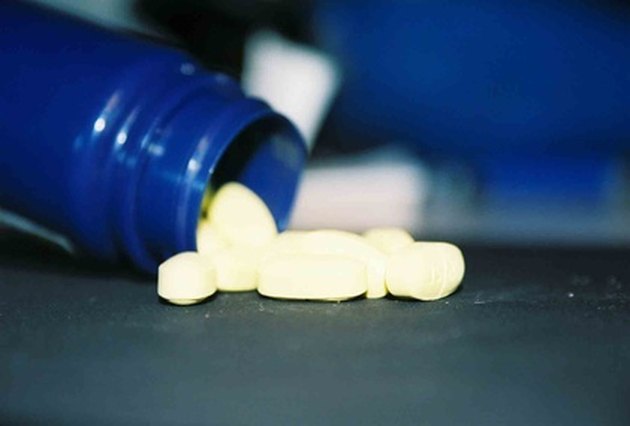 Removes Toxins
Triphala guggul has been reported to be able to remove deep-seated toxins from your body's soft tissues. Toxins can accumulate in and around your joints, causing joint pain, arthritis, muscle aches, and rheumatism. Components of triphala guggul may be able to bind to these toxins and remove them through your blood stream. The process of removing toxins from around your body's major joints may also help reduce joint inflammation, or swelling, that can cause discomfort or pain.
Maintains Healthy Cholesterol Levels
Triphala guggul has been reported to help your body maintain healthy levels of both good and bad cholesterol, according to the 1998 book "Anabolic Primer". High or unbalanced cholesterol levels can increase your risk for developing heart disease. Good cholesterol, or high-density lipoprotein, may be elevated with the regular supplementation of this herbal extract. Bad cholesterol, or low-density lipoprotein, may be lowered with supplementation. This may also lower your blood pressure and hypertention, reducing the risk of heart disease.
Supports Weight Management
When combined with a healthy diet and regular exercise, triphala guggul may be used as an ergogenic aid to help support weight loss. A compound in triphala guggul, called ushan virya, may stimulate the mobilization of fat stores throughout your body. Moving free fatty acids from fat tissue cells to muscle cells for energy increases your fat-burning potential, particularly if you exercise regularly.
Maintains Digestion and Absorption
Triphala guggul has been used in India as a digestive aid for centuries. Compounds in the resin extract may strengthen your digestive system by increasing the amount of hydrochloric acid and other enzymes that are responsible for the breakdown of food in your stomach. Triphala guggul may also improve nutrient absorption by acting on the enzymes found in your intestinal tract. Increasing your digestive system's ability to absorb nutrients has many benefits, including increased nutrient delivery to your body systems and overall digestive health.