Your kidneys filter out a lot of toxins in your body. Some of those toxins are simply byproducts of digestion, while others are chemical components of the foods and drinks you take in. But for kidneys -- as well as the rest of your digestive system -- to be able to function properly and flush out your system, you need a certain amount of water each day.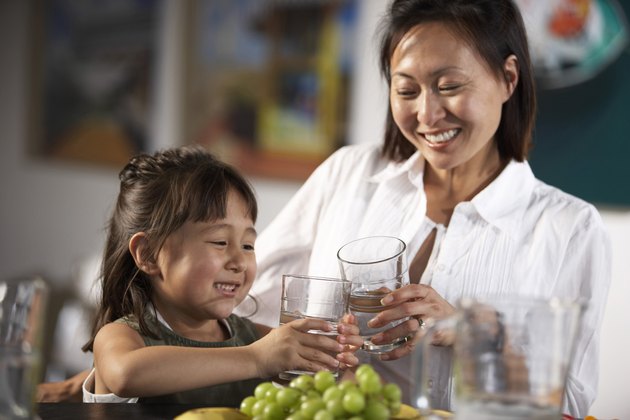 Basic Water Needs
An exact water recommendation for optimal flushing doesn't exist. However, the Food and Nutrition Board of the Institute of Medicine recommends a certain amount of fluid just to make your body run normally and remove waste. If you are female, the recommendation is 2.7 liters daily, or around 91 ounces. As a man, you need at least 3.7 liters, which is 125 ounces per day. Don't drink everything at once, though. Flushing and waste removal requires a steady supply of fluid throughout the day. You should be frequently taking a sip here and there during your waking hours.
When You Need More
That basic water recommendation might not be enough to flush everything out. If you're feeling thirsty, you could be dehydrated and lacking about a pint of fluid, explains registered dietitian Sheila Tucker. You'll need to drink more when you feel thirsty, are exposed to extreme hot or cold temperatures, have a physically demanding job or exercise vigorously. Typically you need between 4 and 8 ounces of fluid every 15 to 20 minutes that you exercise to stay hydrated.
Beverage and Food Consideration
Water isn't the only way to meet your fluid needs. All drinks, including low-fat milk and 100 percent fruit juices, help up your fluid intake. Caffeinated beverages, like coffee and tea, increase your fluid level as well. But caffeine can have a diuretic effect, making you urinate excessively and ultimately leaving you dehydrated if you have excessive amounts. Moisture-rich food such as soups, fruits and vegetables are other sources of water. Foods actually make up roughly 20 percent of the water you have in your diet.
Drinking Too Much
While you might think that guzzling bottles of water all day long will help flush out your system even more, it is possible to go way overboard. Too much water imbalances the electrolytes in your body as your blood becomes diluted. This condition, called hyponatremia, leads to weakened muscles, an irregular heartbeat, brain swelling and possibly death in rare occurrences. If your urine is very light yellow to clear, it might be time to put the cap on the bottle and stop drinking for a bit.