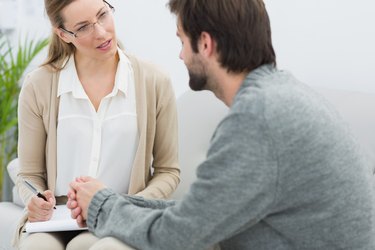 Optifast is a medically supervised weight loss program developed in 1974 and based mostly upon reducing caloric intake by utilizing high protein meal replacements, according to "Nutrition: Concepts and Controversies." Learning about the Optifast program is essential in determining if it is the best option for you to achieve a healthy body weight. Consult your physician prior to starting the Optifast program or any other weight loss plan.
Optifast Diet Guidelines
The Optifast weight loss program starts with a minimum of 12 weeks of complete meal replacements. During this time, you must consume six daily Optifast meal replacements, which are available in the form of soups, bars and shakes and provide 130 to 140 calories each. This phase is followed by a minimum transition period of six weeks, during which time you slowly integrate regular foods back into your diet. The last phase, which lasts a minimum of eight weeks, of the program concludes by adhering to a diet comprised entirely of regular foods and no meal replacements.
Weight Loss
You can expect to lose 2 to 5 lbs. per week on the Optifast program. Due to the rapid rate of weight loss, Optifast was designed for people with 50 lbs. or more to lose. However, your personal rate of weight loss can vary based upon your compliance to the Optifast program, gender, age, health condition and exercise routine. As a general rule, young males in good health who are entirely compliant with the program's guidelines and exercise on a regular basis lose weight the fastest.
Support and Supervision
Dieters are required to attend weekly medical appointments and group counseling for at least the first 18 weeks of the program. During the medical appointments, you meet with medical staff to have your weight and vital signs checked to ensure you are making adequate progress on the program and no health problems develop. Group counseling sessions focus on making the necessary mental, emotional and behavioral changes to ensure you maintain a healthy weight long term and prevent rebound weight gain.
Considerations
A minimum of 1,200 calories is required by most adults to support basic metabolic function. The Optifast program provides only 800 calories per day. According to "Handbook of Obesity Treatment," eating fewer than 1,200 calories per day can lead to a sluggish metabolism and should only be attempted under the supervision of a physician. It can be challenging to adhere to any diet that requires you consume only meal replacements, and as such may result in cheating on the diet and sabotaging your weight loss. Don't give up on a healthy lifestyle if you find the Optifast diet too restrictive. Instead, consult a dietitian to develop a weight loss plan you can live with.