A common myth is that pregnant women should avoid basil, whose green aromatic leaves are used fresh or dried to flavor foods. However, using the herb to add a punch of flavor to your stews, soups, pizzas or salads is safe. Pregnant women should avoid taking basil or any type of herbal supplement in concentrated amounts.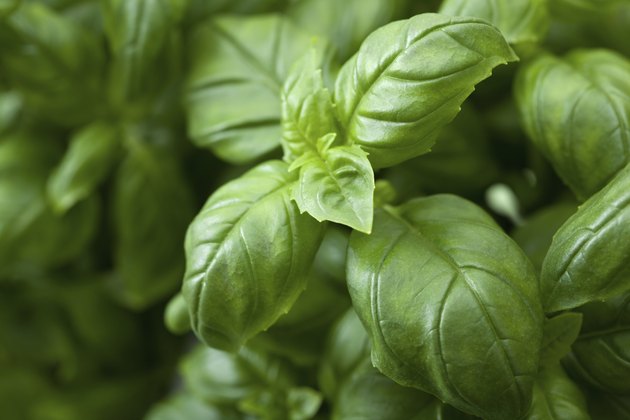 Effects on Pregnancy
Linda B. White, M.D., notes on the site Childbirth Solutions that many herbs are high in volatile oils. If taken in high doses, these active compounds stimulate or irritate the uterus in pregnant women. Basil and other herbs in the mint family such as marjoram, oregano, peppermint and rosemary contain active oils. The fear is that this can cause a pregnant women to miscarry or deliver a preterm baby. However, White advises basil can be safely used as a culinary herb in small amounts -- just enough to add seasoning.
Health Benefits of Basil
When used as a cooking herb to flavor food, basil offers a range of nutritional benefits. Purdue University notes that this green leafy herb contains antioxidants called flavonoids that help remove waste products from the body and boost the immune system. The University of Maryland Medical Center recommends adding basil to food to help balance blood sugar levels.