Both Muay Thai and krav maga are forms of combat martial arts. They originally were developed as survival skills in their countries of origin. Muay Thai means "the science of eight limbs;" krav maga means "contact combat." Muay Thai originated in Thailand, while krav maga was developed in Israel.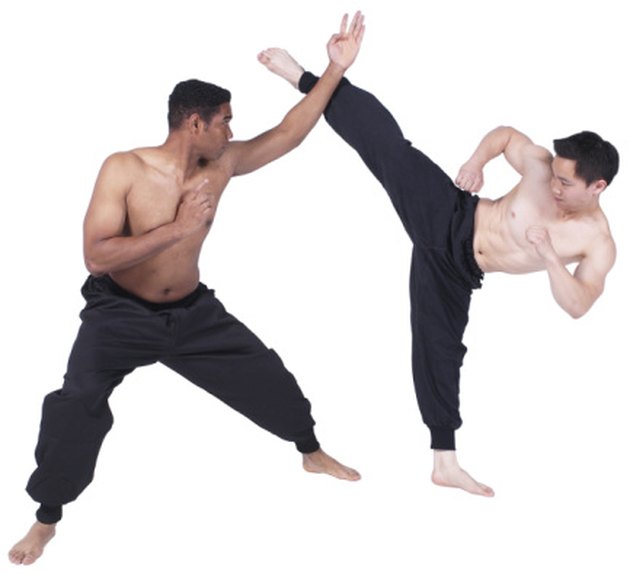 History
Much of the origins of muay Thai have been lost over the years, but it is believed the art was developed as protection for the Thai people against the constant threat of invaders. The first Thai army was formed around the early part of the 12th century, and muay Thai became integrated into Thai society. Krav maga was developed by Imi Lichtenfield, who was born in Hungary, but immigrated to Israel in the 1930s. By 1948, Lichtenfield was asked by the Israeli government to incorporate his form of survival techniques into the country's military training.
Ideals
The premise behind muay Thai is for the whole body to be toughened and strengthened. The intent is to subdue an opponent quickly, without leaving yourself open to attack from someone else. In this way, muay Thai is similar to krav maga, but instead of a set design of strikes or grappling, krav maga utilizes the natural instinct of whatever is available, or what is most efficient to subdue an attacker.
Techniques
The emphasis behind muay Thai is on striking and kicking, with particular attention to the elbows and the knees. When kicking, the impact is not made with the foot, but with the shin. This is where the element of toughening your shins is important. Krav maga employs the philosophy of striking your opponent's vulnerable points, rather than toughening your body to the point of making it a hardened tool. This survival technique also teaches you to improvise, and to use any weapon you have at your disposal to protect yourself.
Differences
Over the years, muay Thai has developed into a sport, complete with rules and competitions, whereas krav maga continues to be taught as a self-defense or survival skill. For muay Thai to adapt to more sporting conditions, it has evolved and adjusted its strikes in an attempt to make them less lethal. The teachings of krav maga employ the simulation of highly stressful, real-life situations with emphasis on the importance of being able to survive an attack.