Baking a cake requires a delicate balance of ingredients and baking conditions to result in a moist, delicious finished product. Variations in the way you measure or mix your ingredients often leads to problems, such as unwanted crumbling. A crumbly cake is difficult to ice and may fall apart completely. A cake that sticks to the pan may also crumble when you try to remove it from the pan. Follow the directions exactly to prevent a crumbled mess with your next cake.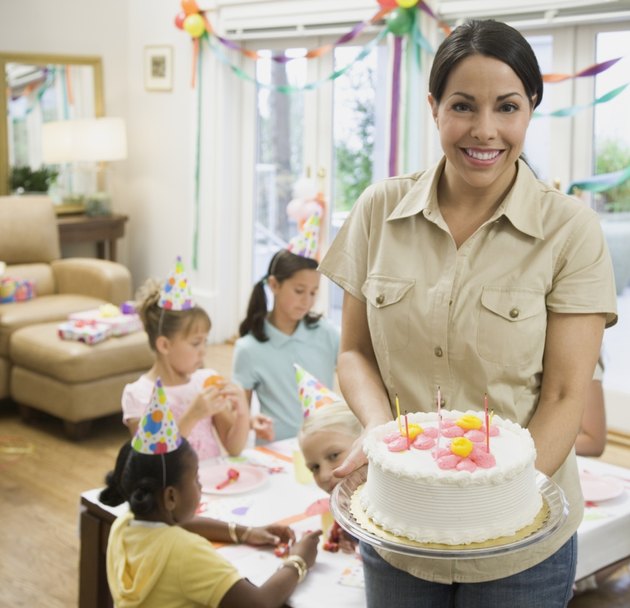 Step 1
Use a liquid measuring cup for the liquids and a dry measuring cup for the cake's dry ingredients to ensure accurate measurements. Variations throw off the liquid-to-dry ratio that can make the cake crumbly rather than moist.
Step 2
Spoon the flour lightly into the dry measuring cup. Level it off with the flat edge of a knife and avoiding packing or compressing the flour to get an accurate measurement. Too much flour makes the cake batter dry and possibly crumbly when baked.
Step 3
Use large eggs to ensure you aren't shorting the recipe of liquid. Smaller sized eggs can contribute to a dry, crumbly texture.
Step 4
Add the full amount of fat called for in the recipe. Too little fat adds to the dryness of the cake.
Step 5
Mix the cake batter only as much as the recipe indicates. Too much mixing can contribute to cake crumbling.
Step 6
Grease the cake pan well to avoid sticking that can lead to crumbling. Place a piece of parchment paper that is cut to size on the bottom only of the cake pan to help the cake release easier. Grease the cake pan like normal along with the parchment paper.
Step 7
Bake the cake at the temperature designated by the recipe. A low temperature contributes to a coarse texture.
Step 8
Remove the cake from the oven as soon as it is done baking. An extended baking time dries out the cake and makes it crumbly.
Things You'll Need
Liquid measuring cup

Dry measuring cup

Parchment paper