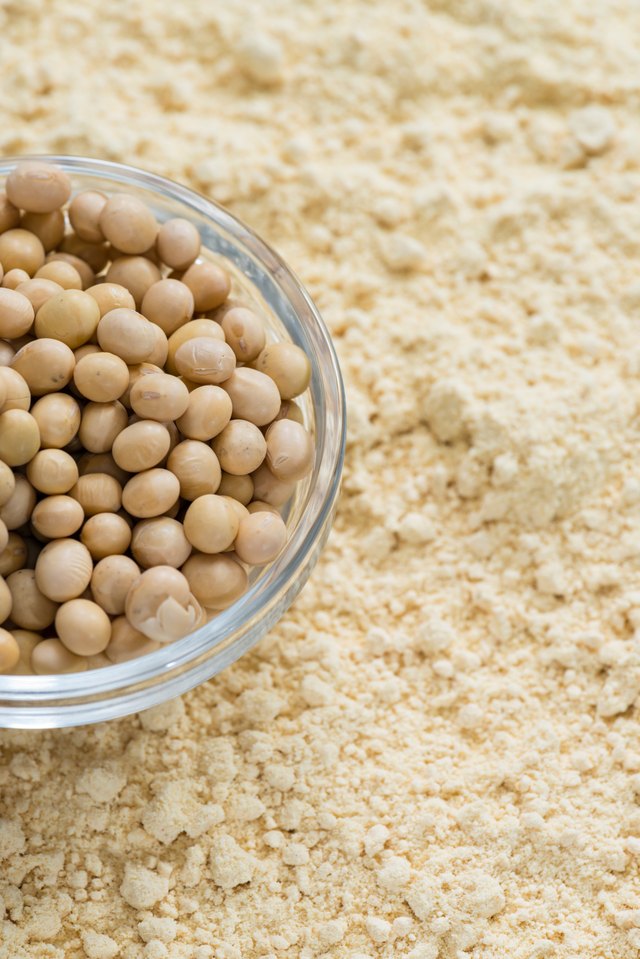 When it comes to protein powders, milk-based products, like whey and casein, are often the ones athletes go for. But if you're lactose-intolerant, you still have lots of options. Not only are some of the milk protein supplements lactose-free, but there are also a number of dairy-free protein powder options for you as well. Consult your doctor before adding protein supplements to your diet.
Whey Protein Isolate
Whey is a protein found in milk. But it's processed in such a way that it contains minimal amounts of carbohydrate, which means it's much lower in lactose. Of the different types of whey proteins, whey protein isolate is the most processed and contains the least amount of lactose.
The National Strength and Conditioning Association reports that whey protein isolate is safe for people with lactose intolerance. Whey is a high-quality source of protein, which means it contains all of the essential amino acids, is easily utilized by the muscles and will be absorbed quickly after you drink it.
Soy Protein
Soy protein, which is usually found as soy protein isolate, is also a high-quality source of protein. As a protein powder that does not contain any milk products, it's naturally lactose-free and safe for anyone who is lactose-intolerant. Soy foods, like soy protein, contain isoflavones, which are nutrients that may help promote heart and bone health, says the Linus Pauling Institute.
Pea Protein
Also lactose-free, pea protein is made from field peas -- the dried varieties you may use to make soup -- also known as split peas. Like soy, pea protein is found as a pea protein isolate, which means that it has been processed to isolate the protein from the carbohydrates and fat found in the whole pea. While it's considered a complete protein, because it has all the amino acids you need, its balance of amino acids isn't as beneficial as that of whey or soy.
Wheat Protein Isolate
Gluten in wheat is a protein that can be isolated from the carbs and fat to create a protein powder that is also lactose-free. Like the other proteins, wheat protein isolate contains all of the essential amino acids, making it a quality protein powder option. If you're allergic to wheat or gluten, however, wheat protein isolate may not be a good fit for you.