Most detox diets limit your intake to juice or a special tea. But celebrity cardiologist Dr. Mehmet Oz recommends a 30-day detox diet plan that includes food and focuses on helping you lose weight while you clean up your diet and body. Even though the diet was created by a doctor -- Dr. Alejandro Junger -- be sure to consult your personal physician before you begin to discuss the pros and cons of Dr. Oz's 30-Day Diet Plan.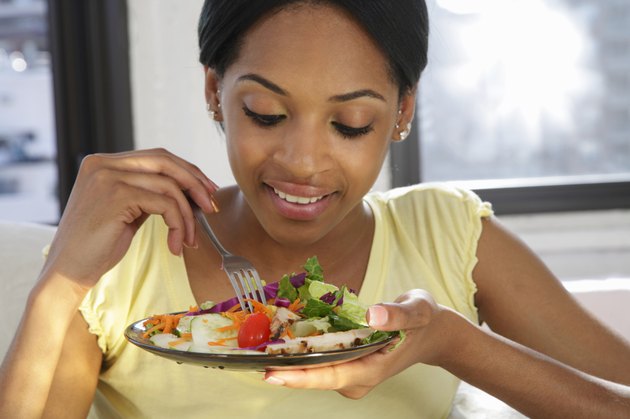 Dr. Oz and the 30-Day Diet Plan
The 30-day detox diet plan endorsed by Dr. Oz is aimed at improving digestion to boost your body's natural ability to detox itself. On the diet, you eat three meals a day -- a shake for breakfast, then a regular lunch and light dinner -- plus snacks as needed. Your meal plan should contain a minimum of 1,200 calories and 50 to 80 grams of protein a day.
After your last meal, you're encouraged to fast for 12 hours to allow your digestive system to rest so that your body can concentrate on ridding itself of the damaging substances. You're allowed to drink water or herbal tea during the 12-hour fast, however. Although rest is an important part of the program, you're encouraged to enjoy a 20-minute walk or do yoga or other light types of exercise.
The 30-day diet plan also offers additional suggestions to help the detox process, such as drinking plenty of water to flush the kidneys, saunas to increase the release of toxins through sweat and jumping rope or deep breathing to get your lymph system going.
The plan also works on helping you become more mindful of your hunger, especially when snacking. Dr. Junger explains that snacking may be more about feelings than an actual need to eat, and suggests your meals should be enough to keep you satisfied.
Suggested Food List for This Clean Detox
The 30-day diet plan isn't overly restrictive. In fact, it's filled with a variety of foods from most of the food groups, but it eliminates foods linked to allergies and intolerance such as gluten, wheat, peanuts, soy, eggs and dairy, and those that might cause digestive problems. You can eat fruits and vegetables, beans and lentils and gluten-free grains such as brown rice and quinoa. Wild fish and organic poultry are also allowed, along with nuts, seeds and coconut oil. Stevia can be used as a sweetener, and you can use plant-based protein powders in your morning shakes if you're a vegetarian or if you just need more protein.
Other foods not allowed include processed foods, red meat, coffee, soda, sugar, whey protein, corn oil and creamed vegetables.
Sample Daily Menu for the Plan
Although weight loss is part of the plan, the makers of the diet provide serving suggestions and encourage you to be mindful of your appetite and hunger, and stop eating when you're 80 percent full. Your breakfast shake might include a berry and greens smoothie made up of berries, spinach, coconut milk, coconut oil and protein powder or a mango and cardamom smoothie consisting of fresh mango, coconut water, coconut flakes and cardamom. The plan provides numerous shake recipes in a variety of flavors.
Lunch is your largest meal, and the plan offers a number of options such as fish tacos, hummus chicken with brown rice and turkey lettuce wraps. For dinner, you might like carrot and avocado soup with a salad or quinoa tossed with roasted vegetables. Kale chips and roasted chick peas are just a couple of the snack options on the plan.
Considerations and Diet Tips
The 30-day detox diet promotes your body's natural ability to detox itself by supporting the organs responsible for detoxing, including your kidneys, liver and digestive system. However, even though it's filled with nutrient-rich foods, it's not the right diet for everyone. The plan isn't recommended for women who are pregnant or nursing, anyone under 18 years of age, or people with type 1 diabetes, kidney disease or cancer.
And since it bans dairy, you'll have to get your calcium from other sources. The leafy greens and beans provide small amounts, but you might want to include calcium-fortified plant-based almond or rice milk in your morning shake. And since you only get one shake a day, talk to your doctor to see if you'll need a calcium supplement too.
Also, like any weight-loss plan, you might regain any weight you lost once you go back to your usual eating habits. To minimize regain, incorporate some of things you learned over the 30-day diet, such as mindful eating and focusing your meals on whole, fresh food.