When it comes to fat consumption, unsaturated is always better. Saturated fats -- which come from animals and certain oils, like coconut oil -- can be bad for your heart. Vegetable oils are rich in healthier fats that might help protect against high blood pressure and decrease your risk of heart disease. Olive oil and flaxseed oil are good examples of healthy oils.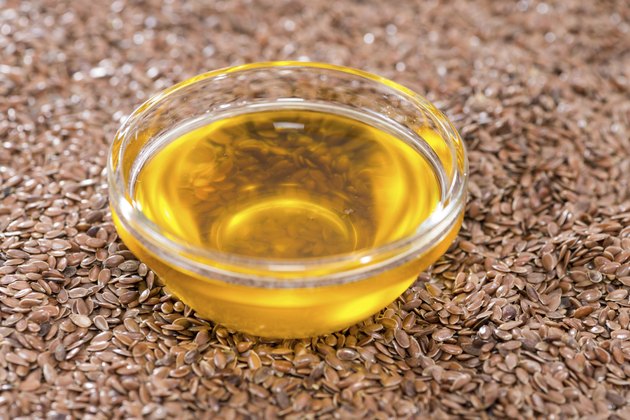 Benefits of Flaxseed Oil
Flaxseed oil is rich in omega-3 fatty acids, the same nutrients found in fish oil. In fact, flaxseed oil is the only non-animal oil that contains omega-3. Flaxseed oil can help lower LDL or bad cholesterol, help protect against heart disease and promote colon health.
Benefits of Olive Oil
Olive oil contains monounsaturated fats, including oleic acid. These fats are healthy and good for the cardiovascular system. Olive oil lowers LDL cholesterol, but also lowers total cholesterol. This means your HDL, or good cholesterol, might also be affected.
Drawbacks of Each Oil
Flaxseed oil is not good for cooking. As the oil heats up, the fat in it breaks down, burning and destroying the omega-3s. To preserve its benefits, add flaxseed after cooking, such as on top of rice, or use it in salad dressing. Flaxseed oil also turns rancid quite quickly, so it must be used within six months of opening. You can cook with olive oil. Olive oil contains monounsaturated fatty acids, better for you than saturated fats, but no omega-3s. Both oils are high in calories and fat, so consume them in moderation to avoid weight gain.
Expert Insight
Although both oils are healthy, flaxseed seems to have more benefits. This is especially true for those who are not consuming fish regularly and not getting omega-3 fatty acids from any other source, such as supplements. According to the University of Maryland Medical Center, flaxseed oil might even be useful for chronic inflammation, such as the swelling caused by arthritis.