Donating blood is a safe and fulfilling way to give community service and assist in saving lives. The American Red Cross states that one person's blood donation can save up to three individuals' lives. All donors must meet the eligibility requirements in order to donate blood. Nursing mothers who follow certain guidelines and meet the requirements can also safely and successfully donate blood. If you are breastfeeding, you should speak with your doctor before donating blood.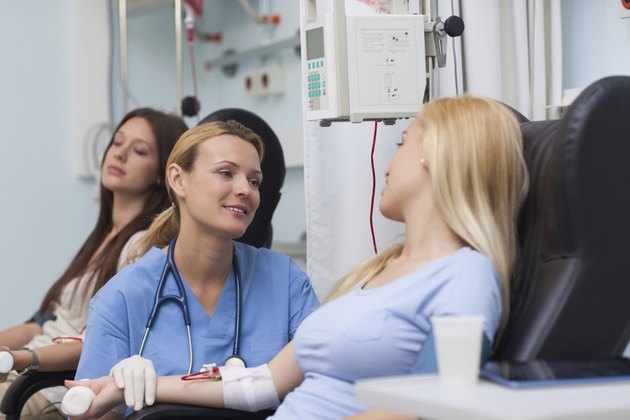 American Red Cross Guidelines
The American Red Cross encourages all healthy individuals to donate blood that can be used to help save the lives of others. Because of the nutrient demands of both baby and mother, as well as the many changes in iron and blood levels in the body during pregnancy, the Red Cross does not allow pregnant women to donate blood. However, nursing mothers who wait six weeks after giving birth can give blood as long as they meet the other eligibility requirements considered by the Red Cross. Donating blood may cause drowsiness, dizziness, light headedness or dehydration, so donate with caution.
Guidelines in Other Countries
International standards and guidelines for breastfeeding mothers who wish to donate blood are different than those found in the United States. The Australian Red Cross Blood Service, for example, states that it is not advisable for nursing mothers to donate blood. The deferral period is nine months and until the baby is significantly weaned or getting most of her nutrition from solids. The Canadian Blood Service recommends breastfeeding mothers to wait at least six months before giving blood.
Considerations
One of the most crucial steps a breastfeeding mother should take if she decides to donate blood is to remain hydrated. Human milk is composed of 87 percent water and donating blood takes 16 oz. of water from your body, explains La Leche League International. All donors are advised to eat a large meal before donating blood and drinking plenty of water afterward. Additionally, all are discouraged from lifting heavy objects with the arm that was donated to avoid excessive bleeding, a factor which nursing mothers may need to consider if lifting or carrying their own babies.
Additional Guidelines
In order to qualify to donate blood through the American Red Cross, candidates must be at least 17 years of age, or 16 with parental consent, weigh at least 110 lbs. and be healthy -- meaning feeling well and being able to perform normal activities. The use of certain medications, recent or current illnesses or diseases, various medical conditions, certain lifestyle habits and history, or travel outside of the U.S. may affect your eligibility. Blood donors can return to give blood 56 days after having given blood. Talk with your doctor about the best and safest option for you and your baby.