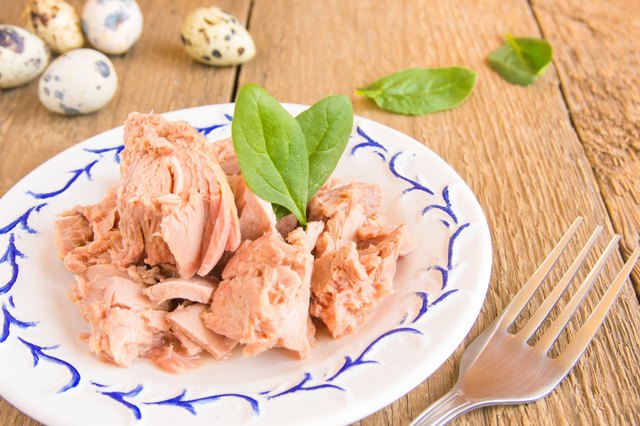 Doctors advise pregnant women to avoid various foods or eat them with caution, even though the choices seem to be healthful. Fish is one such food. According to the American Pregnancy Association and the U.S. Food and Drug Administration, fish is a good source of lean protein, omega-3 fatty acids and B vitamins, and it is low in saturated fat. However, fish, including the various types of tuna, can contain high levels of mercury that can harm your unborn child.
Bigeye and Ahi
High levels of mercury can be detrimental to the development of your unborn child's brain and nervous system. Large fish with long life spans are most likely to have the highest levels of mercury. For tuna, this includes the bigeye and ahi varieties, whose flesh contain more than 0.5 parts of mercury per million. As mercury can build up your bloodstream, MayoClinic.com states that you should pass up these fish before becoming pregnant and during your pregnancy to avoid damage to your child.
Yellowfin and Canned White Albacore
With mercury levels between 0.3 and 0.49 parts per million, you should eat yellowfin and canned white albacore tuna no more than three times per month during your pregnancy. The Natural Resources Defense Council has developed a weight-based chart to determine the appropriate servings for canned white albacore tuna. Females between 80 and 100 lbs. may eat one can every two weeks. Women weighing 110 lbs. may eat one can every 12 days. At 120 lbs., you may eat one can every 11 days. Women weighing 130 to 140 lbs. may eat one can every 10 days. And if you weigh 150 lbs. or more, you may eat one can every nine days.
Skipjack and Canned Chunk Light
Skipjack and canned chunk light tuna have moderate levels of mercury – between 0.09 and 0.29 parts per million – and you should eat them no more than six times per month. The NRDC's chart also provides exact measurements for canned chunk light tuna. Women weighing 80 lbs. may eat one can every six days. If you weigh between 90 and 100 lbs., you may eat one can every five days. Women weighing between 110 and 130 lbs. may eat one can every four days. And if you weigh more than 140 lbs., you may eat one can every three days.
Other Fish
If you choose not to eat tuna during your pregnancy but would still like to enjoy fish as part of your diet, there are multiple varieties that contain mercury levels of less than 0.09 parts per million. These include anchovies, catfish, flounder, Atlantic haddock, herring, salmon, tilapia, freshwater trout and whitefish. Shellfish such as clams, crabs and oysters also contain low levels of mercury. You may eat two servings of these types of fish and shellfish up to twice each week.