Carnitine is a nutrient that your body uses to turn fat into energy, the University of Maryland Medical Center notes. Your liver and kidneys produce carnitine and your body stores it in your skeletal muscles and heart. L-carnitine is a kind of carnitine supplement that is generally considered safe. However, L-carnitine use has been associated with diarrhea and skin rashes. L-carnitine use also has purported benefits such as alleviating neuropathy, but new studies show it may not benefit your heart as once thought.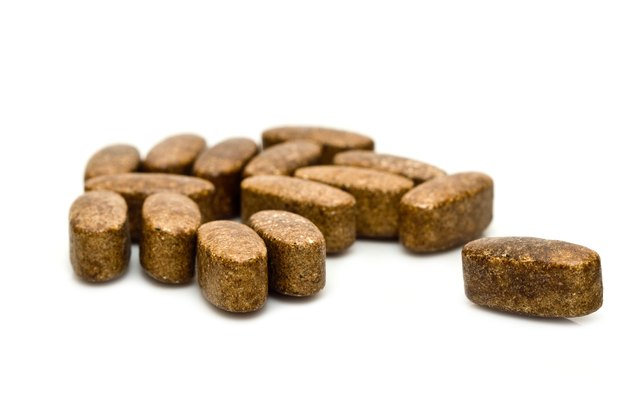 Dose
The recommended daily doses for L-carnitine vary according to the health condition. The general dose for adults is between 1 gram and 3 grams per day, the University of Maryland Medical Center notes. The dose used to treat angina and heart failure is between 1.5 grams and 2 grams per day. When used to treat diabetic neuropathy, L-carnitine doses are about 3 grams per day. Peripheral vascular disease is usually treated with between 2 grams to 4 grams of L-carnitine daily. L-carnitine is generally not recommended for children unless prescribed by a doctor.
L-carnitine and LDL Cholesterol
A study published in a 2009 issue of the "American Journal of Clinical Nutrition" examined the effects of L-carnitine supplementation on oxidized low-density lipoprotein, or LDL cholesterol, in diabetics. The study used 81 people who had Type 2 diabetes and lasted about three months. The people were divided into two groups, and the results showed that those treated with L-carnitine displayed reduced oxidized LDL levels. Triglyceride levels decreased as well. This suggests that L-carnitine can manage cholesterol levels. However, more research is needed to verify this assertion.
L-carnitine Neonatal Treatment
In 2011, "Pediatric Research" published a study that examined the long-term effects of long-term neonatal L-carnitine treatment. The study used rats as test subjects. They showed no negative effects on growth and kidney function after 50 weeks. However, mixing L-carnitine with dexamethasone caused a slight reduction in kidney function. This suggests that L-carnitine levels should be monitored when used to treat newborns. However, more research is necessary to ascertain the veracity of this purported benefit.
The Bad Side of L-Carnitine
In your stomach, L-carnitine is converted to a substance called trimethylamine or TMA, according to a study in the December 2013 issue of "Atherosclerosis." TMA is then sent to your liver where it is processed into trimethylamine-N-oxide, or TMAO. Researchers report that TMAO leads to the buildup of plaque in your arteries where it can cause heart disease, heart attack and stroke. The research on L-carnitine's negative effects on the heart has caused cardiologists to change their tune on L-carnitine in diet and supplementation. Doctoroz.com reports that while at one time he recommended L-carnitine, he no longer promotes its use in light of new evidence. L-carnitine is found in several foods, including pork, chicken and seafood, but it is found in the highest concentration in red meat. Doctor Oz recommends that you do not use L-carnitine as a supplement, and if you eat red meat limit your consumption to 4 ounces per week.