Soy milk comes in a variety of flavors, all touting a myriad of health benefits, from preventing heart disease and cancer to alleviating menopause symptoms. According to a 2006 article in "Environmental Health Perspectives" evidence is not conclusive on how soy compounds act in the human body, so no health benefits are guaranteed. Extensive use of soy milk may have unwanted side effects.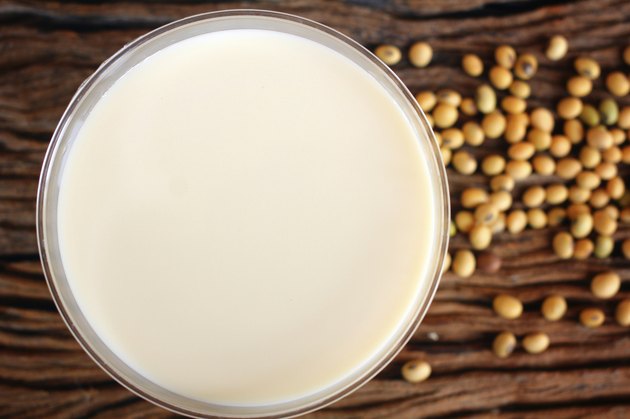 Estrogen and Testosterone Levels
Soy milk contains phytochemicals called isoflavones. Phytochemicals are plant compounds known for their disease-fighting abilities. The isoflavones in soy milk raise estrogen levels, which is beneficial for post-menopausal women who experience hot flashes and other symptoms after natural estrogen levels drop. On the down side, isoflavones block the body's natural estrogen and take away the protective effect estrogen levels have against breast and uterine cancers before menopause. They may also promote hormone-sensitive cancers in certain people. In men, soy lowers testosterone levels leading to a decreased sex drive.
Sinus and Digestive Problems
According to certified clinical nutritionist Lauren Talbot, soy blocks the enzymes the body needs for digestion. While soy contains protein, there is also a substance in soy that inhibits protein digestion. This can cause bloating, indigestion and constipation. After the body breaks down soy, it leaves a mucus-like coating in the gastrointestinal tract, which slows digestive and respiratory systems and causes excess mucus. Over time, this can lead to sinus problems, asthma exacerbation, colds and irritable bowel syndrome.
Mineral Absorption
The phytic acid in soy can also prevent the absorption of crucial minerals, including calcium, magnesium, iron and zinc. A study published in 1992 in the "American Journal of Clinical Nutrition" showed iron absorption in humans increased when phytate levels were reduced. Even after all the phytate was removed, participants absorbed significantly less iron from soy protein compared to egg whites. According to the Linus Pauling Institute, soy protein also inhibits iron absorption. Without adequate iron, you experience fatigue, rapid heart rate and breathing, heart palpitations and eventually anemia.
Thyroid Function
The isoflavones in soy milk deplete iodine levels in the body, reports the University of Maryland Medical Center. Without adequate iodine, the thyroid can't function properly and you can develop hypothyroidism. A 2006 article published in "Thyroid" states that people with an underactive thyroid or low iodine intake are at risk for hypothyroidism if they consume soy products. Most Americans get a sufficient amount of iodine, but have your thyroid checked if you drink a lot of soy milk. If you have hypothyroidism, speak with your physician about adjusting your medication.