Many people are confused about the terms "karate" and "kung fu," treating them as synonyms or simply not understanding the difference between these systems. Neither term actually refers to a single martial art; both words are blanket terms for a wide variety of distinct styles. Karate traditions go back to the Japanese province of Okinawa, while kung fu systems are Chinese.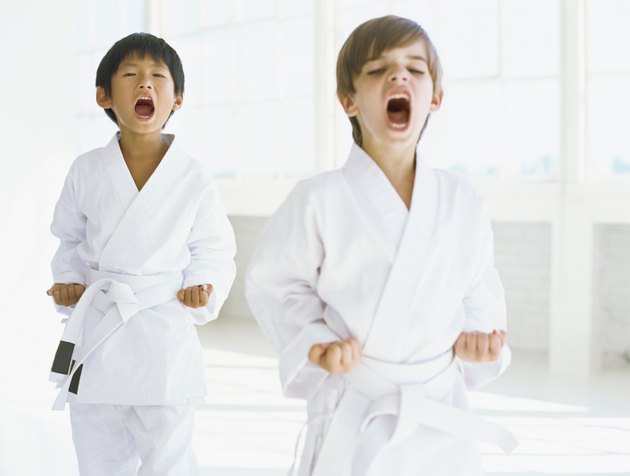 Kung Fu
Kung fu is a general term for the many styles of Chinese martial arts, each of which is a distinct system in its own right. For example, Eagle Claw is a completely different fighting style from Taiji Quan, but both of them are kung fu systems because they are both Chinese. Many styles of kung fu are said to have originated at the Shaolin Temple, a Buddhist monastery famous for its warrior monks. Different styles of kung fu often have markedly different fighting methods and strategies.
Karate
Karate is a term for the indigenous martial arts of the Ryukyu Islands, of which the largest is Okinawa. There are several systems of Okinawan karate, including Shorin-Ryu, Goju-Ryu, Shito-Ryu and others. Okinawa is a region of Japan and has been for several centuries, but the Okinawans have a culture of their own that is distinct from the rest of Japan. Nearby China had a considerable influence on Okinawan culture, and the martial art of Okinawa was originally known as "kari te," a phrase meaning "China hand," or in other words, "Chinese boxing." This phrase was later changed to "kara te" or "empty hand." Even though Okinawan fighting traditions were clearly of Chinese origin, they developed in a different direction over time, and modern karate has a distinctly different look and feel from Chinese kung fu.
Differences Between Kung Fu and Karate
Both kung fu and karate styles usually are taught by means of solo exercises in which the practitioner punches, kicks and uses footwork according to the principles of that style. However, the exercises, or "kata," of Okinawan karate look very different from those of kung fu. Kung fu solo sets are often very long and tend to be based on flowing and continuous movement in which one technique leads directly into another without a pause. Karate kata often are shorter, and there are distinct pauses between techniques that can give a performance of karate a rigid appearance in comparison with kung fu.
Hard Versus Soft
Some people think of the difference between kung fu and karate in terms of softness versus hardness. Kung fu techniques tend to use circular movement patterns and emphasize the grace and elegance of the practitioner, while karate techniques tend to move forward with straight lines and hard force, and emphasize the power of the attack. However, it is questionable whether kung fu styles should really be seen as being any softer than karate styes. For one thing, there are so many styles of kung fu that it is difficult to generalize. In addition, the end goal of all fighting methods is to achieve victory over the opponent, so distinctions based on the look of a technique are of limited importance.