Contractions of the uterus herald the first phase of labor. Contractions, also informally called "labor pains," are associated with gradual dilation of the cervix. Sometimes women may mistake other causes of abdominal pain for true contractions of the uterus. These other causes of pain are known as "false labor pains" or "Braxton-Hicks contractions." Women who think they are in labor should call their doctor or visit the emergency room. Health professionals can determine whether labor has started.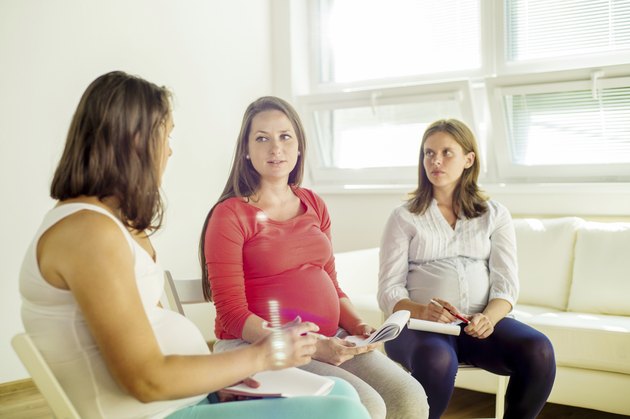 Regularity
Contraction pain should occur at regular intervals, and in between these intervals, the pain should subside. Pain should last for no more than a minute before subsiding. The time between contractions may be approximately five minutes at first; this interval gradually decreases over time. In contrast, false labor pain does not occur at regular intervals. Though the pain also may come and go, it does not typically do so in a regular fashion.
Increasing Severity
The strength of uterine contractions increases over time, which can cause a gradual increase in labor pain. The contractions can be felt over the front of the abdomen. As the uterus contracts, it becomes rock-hard in consistency. Following the contraction, it returns to its normal hardness. In contrast, Braxton-Hicks contractions do not increase in severity over time and are not associated with any change in consistency of the uterus. Some women describe Braxton-Hicks contractions as discomfort rather than pain.
Location of Pain
The pain of contractions is felt over the lower abdomen and pelvis. The pain also may be felt in the sides of the abdomen and thighs. True labor may have associated back pain that occurs with each contraction. False labor pains, in contrast, typically cause discomfort in the lower abdomen and groin, but they usually are vague and difficult to pinpoint. The pain with contractions occurs regardless of any change in position or with movement. False labor pains may decrease or change based on the woman's position.
Other Signs
True contractions may be associated with a number of other signs. "Show" refers to a discharge of mucus and blood from the vagina. This is due to dilation of the cervix, which dislodges mucus and blood. A doctor doing a pelvic exam can determine whether contractions are causing labor to progress by finding a shortened, dilated cervix. In addition, the fetal membranes may rupture, producing a large gush of clear fluid from the vagina. These signs do not typically occur with false contractions.