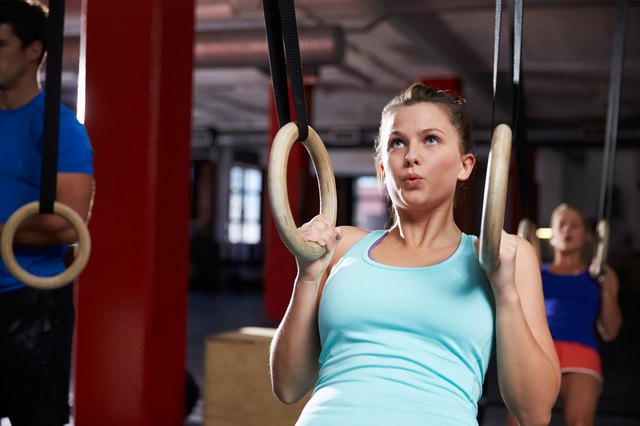 Change your concept of losing weight to losing fat. You want to lose inefficient weight which is fat, not functional weight which is muscle. The primary way to do that is get a handle on your hormone insulin through proper nutrition. Once your nutrition is in order, you will want to amplify the efforts of your eating with an effective 30-minute circuit training routine. A half hour is a perfect window for fat-loss-aimed exercise because you will quickly exhaust the muscles and be done before your stress hormones spike.
Optimal Nutrition and Intense Workouts Will Shed Fat
Step 1
Lower your carbohydrate intake to under 200 g per day. When you eat carbohydrates, you spike your blood glucose, which then signals insulin secretion. The insulin enters the blood and carries the glucose to the brain first, then muscle or fat. If you have excess glucose, the insulin will deliver the glucose to fat tissue to be stored as triglycerides. You want to keep your glucose levels low enough to fuel muscle and release fat from adipose tissue to be used. Eat at least your body weight in grams of animal protein – eggs, meat, fowl, and fish – per day with plenty of healthy fats – grass-fed butter, coconut oil, MCT oil, and avocados – and cooked vegetables. But limit the fruit intake to a minimum as the fructose is tragic for fat loss goals.
Step 2
Perform compound, multi-joint, functional movements. During your workouts, you want to fire up as many muscle fibers as possible. The more you work these muscles, the more glucose they will consume and the more fat you will burn. Squats, deadlifts, presses, sprints, box jumps, gymnastics, kettlebell work, Olympic style lifts, and swimming sprints should make up the majority of your exercise choices. Never sacrifice technique for reps. The last thing you want is to get overconfident and try something you aren't ready for, resulting in a sidelining injury. Progress is about long-term consistency.
Step 3
Vary your movements and intensity – percentage of your maximum capacity. Pick between two and five movements and work them in a circuit format, each to physical exhaustion without technical failure. Do this for multiple rounds with planned rest periods until you reach the 30-minute mark. Each day should have different movements, load, and structure than the previous day. For example, day one might be maximum repetitions of back squats at 50 percent of your 1RM, pushups, pull-ups, box jumps, and toes-to-bar for a minute each consecutively with one minute rest after the last movement. Repeat that for five rounds. The next day, you might perform 20 repetitions of each of the following lifts as many times through within 30 minutes as you can: overhead dumbbell press, kettlebell swings, Russian twists, and supine rows.
Things You'll Need
Barbell

Weights

Dumbbells

Kettlebells

Pull-up Bar

Jump Box
Tip
If your technique is suffering as you fatigue, lower the resistance or rest longer before continuing. Nothing is more important than safety.
Work at the fastest pace you can manage, because that maximal output will produce much better results than if you ease up.
Avoid working a certain movement more than twice a week.
If you experience a lack in daily energy, increase your protein and fat intake. Do not eat excess carbs or you risk self-defeat. This is not about diets and short-term efforts. This is about lifelong progress.
Working in a circuit allows you to achieve more work in a shorter period of time.