Your runner's high may be expanded when you learn how well your workout contributes to weight loss. That daily 45-minute run does more than elevate your mood, improve your cardiovascular system and lower your risk for heart disease. You also burn a high number of calories. Combine that with a healthy eating program and your excess weight runs away.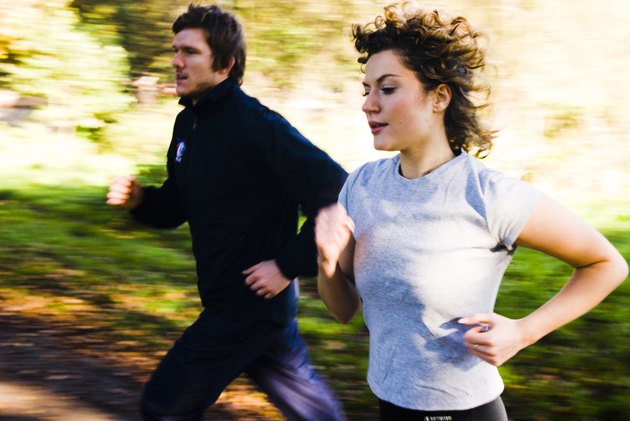 Run Forest Run
Running at any intensity level burns calories to lead to weight loss. Running at higher intensity levels burns more calories, leading to higher amounts of weight loss. When you have 45 minutes, you want to use that time wisely. Run at a pace that elevates your heart rate to a level that leaves you slightly breathless, but able to carry on a conversation. This level should be below your age-predicted maximum heart rate, which is calculated by subtracting your age from 220. If your running intensity level elevates your heart rate near your maximum, reduce your speed to a moderate pace.
Burn Baby Burn
Weight loss is a combination of a reduction of incoming calories and an increase in outgoing calories. You also need to eat a healthy diet that is high in fruits, vegetables, lean meats and whole grains to keep you on target with your incoming calories, as long as you don't overindulge. Running increases the number of calories you burn. According to the American Council on Exercise, a 140-pound person burns approximately 13.2 calories and a 160-pound person burns about 15.1 calories each running minute. Depending on your weight, a 45-minute run burns between 594 and 680 total calories.
Use It and Lose It
The calories burned from running contribute to weight loss when they accumulate and you do not replace the calories with overeating. Each pound lost, or gained, requires 3,500 calories. If your 45-minute run burns approximately 600 calories, you need to run for six days to lose one pound. These days do not have to be in a row, but expect to see weight loss within two weeks if you are consistent with your runs.
The Daily Count
For weight loss, the American College of Sports Medicine recommends exercising for 150 to 250 minutes each week. However, more than 250 minutes of weekly exercise promotes greater weight loss. When you run for 45 minutes at a time, exercise at least four days a week to accumulate 180 minutes. Running five days a week gives you 225 minutes and six days a week totals 270 minutes. Your seventh day of the week is a day of rest.