Hot flashes, which can cause you to alternatively fling off extra coverings and huddle under them just minutes later, are more commonly associated with menopause than pregnancy. But pregnancy can also cause hot flashes; both hormonal changes and other factors can contribute to hot flashes in pregnancy. Hot flashes occur more frequently late in pregnancy rather than the first trimester and increase even more in the postpartum period.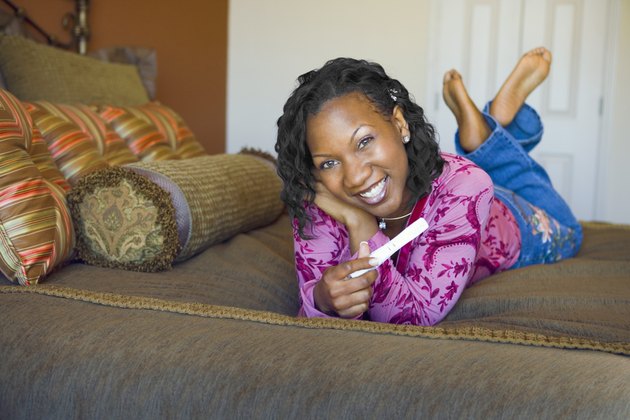 Causes
While changing hormones can cause hot flashes, they're not the only cause of hot flashes or just feeling hot during pregnancy. Hormones such as progesterone raise your body temperature. Nausea can cause feelings of heat and sweating or cold sweats. The heat generated by the fetus can cause you to feel hot as pregnancy progresses.
Frequency
According to researchers from the University of Pennsylvania, pregnant women complain of hot flashes five times more often than non-pregnant women of the same age. While hot flashes affect as many as 90 percent of women in the postpartum period, according to California obstetrician Dr. Laurie Gregg, the University of Pennsylvania researchers reported that 81 percent of hot flashes in pregnant women started before the third trimester.
Very Early Hot Flashes
Hot flashes may occur even before you know you're pregnant, around the time that the embryo implants in the uterine wall. Implantation normally occurs between eight to 10 days after ovulation, according to BabyMed, a website created by obstetrician Dr. Amos Grunebaum. Progesterone, produced by the corpus luteum, the remnant of the follicle that contained an egg, rises after ovulation. Progesteron continues to rise after implantation of the embryo as the production of human chorionic gonadotropin, or hCG, signals the corpus luteum to keep producing progesterone.
Prevention
You can't turn off your hormones when you're pregnant, but you can use external methods of keeping the heat down. Dress in layers so you can dress up or down, depending on what your internal thermometer is telling you at the moment. Wear fabrics that breathe rather than man-made fabrics that hold the temperature in to stay cooler. Make sure what you're experiencing is hot flashes and not an actual fever; call your doctor if your temperature rises above 100 F, Gregg advises.