Bad shoulders shouldn't stop you from strengthening and toning your pectorals. However, you should focus on doing effective exercises with proper technique. Use a weight that doesn't place excessive stress on your shoulder joints, and a range of motion that doesn't cause shoulder pain or increase risk of injury. Always perform a thorough warm-up to loosen up your joints before doing your pec exercises.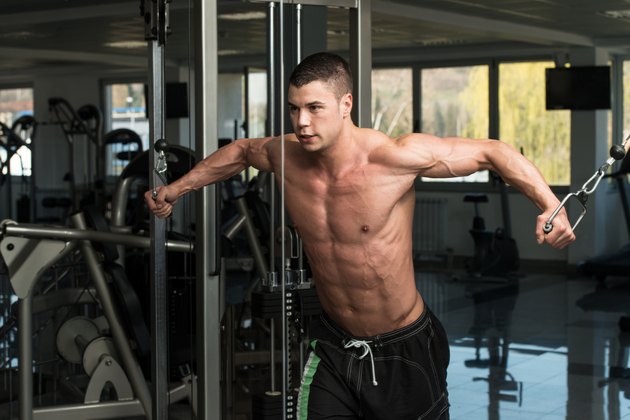 Preparing Properly
Warming up raises your core temperature and loosens up your shoulder joints, enabling you to move them freely through the required range of motion to exercise your pectoralis major or chest. Do a five- to 10-minute run on a treadmill, or a similar time on a stationary bike or elliptical machine. Next do arm circles and arm swings. To do arm circles, hold your arms out to the side. Keep both arms parallel to the floor, move them in a small circle 10 times, then reverse the direction. To do arm swings, start with your arms down by your sides, swing them forward in a big circle 10 times, then reverse the direction.
Managing the Bench Press
The bench press is commonly associated with working your pecs. A study by the University of Wisconsin, La Crosse, sponsored by the American Council on Exercise, compared the effectiveness of nine chest exercises. The study concluded that the barbell bench press engaged the pectoralis major the most. To limit the stress on your shoulders, use a shoulder-width grip with your index fingers roughly in line with your acromion processes -- the bony protrusions on the top of your shoulders. Lower the barbell in a controlled fashion and stop when your upper arms are roughly parallel to the floor and your elbows in line with your shoulders. ExRx.net recommends you not let your elbows travel beyond your shoulders if you have bad shoulders. Use a weight that allows you to do 10 to 15 repetitions.
Avoiding Imbalances
Unlike the bench press, dumbbell presses allow you to work each pec independently, reducing the risks of imbalances. Use a weight that allows you to do 10 to 15 reps, and lower the dumbbells in a controlled fashion until your elbows are in line with your shoulders. With your palms facing away, push the dumbbells upward and inward. Touch the dumbbells together when your arms are extended above your chest.
Cross and Squeeze
Cable crossovers rank number three in ACE's list of effective chest exercises. According to fitness trainer Doug Brignole, writing for "Iron Man Magazine," cable crossovers allow you to mimic the primary function of your pecs -- bringing your arms across your body. Stand within the crossover station, grasp both handles, and hinge forward at your hips until your upper body is approximately at a 30-degree angle to the floor. With your elbows bent, bring the handles down until your arms cross in front of your chest, and squeeze your pecs. When you return the handles, lessen the stress on your shoulder joints by stopping when your elbows are in line with your shoulders.