The tilt of your pelvis can affect the health of your spine. An excessive anterior, or front, tilting pelvis pulls on lower back muscles, possibly leading to lower back pain and hamstring strain. Tight hamstring muscles can also cause postural misalignment, but in the opposite direction. Shortened hamstring muscles lead to a posterior tilt, or "flat back." Your doctor may recommend exercises and stretches to improve your posture and possibly alleviate pain.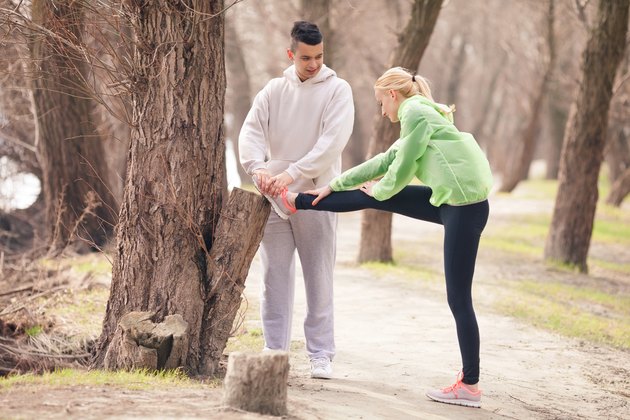 Anterior Pelvic Tilt
The pelvic bones are rotated forward in an anterior pelvic tilt posture. Excess stress is placed on the muscles that begin at the lower spinal vertebrae and attach to the hip bones. Anterior tilts also pull on hamstring muscles, potentially causing strain. The arch in your spine increases, creating a "C" shaped curve known as lumbar extension. This places additional pressure on your vertebrae and the cushioning discs between them. Muscle imbalances are usually at the root of anterior pelvic tilting, beginning with weakness in certain areas such as the abdomen, and tightness in the front of the thighs.
Correcting an Anterior Tilt
Stretching your hip flexor muscles and your lower back can positively affect an anterior pelvic tilt. Strengthening your hamstrings, gluteal muscles and abdominals are also part of the equation. Stretches that lengthen the rectus femoris and iliopsoas muscles, part of your hip flexor group, ease the tightness that enhances the forward tilt. Strengthening your hamstrings and gluteal muscles can counteract the effects of tight hip flexor muscles. Bridges, squats and hamstring curls can target these muscles, increasing strength. Toning your core muscles is also key to improving an anterior tilt. Performing posterior pelvic tilts, by pulling the navel in, strengthens the core abdominal muscles while indirectly stretching your back.
Tight Hamstring Muscles
One of the potential causes of a posterior, or backward, pelvic tilt are tight hip extensor muscles. Muscles that extend the hip move your thigh behind you. Your hamstrings, or back thigh muscles, help with this task, as well as with bending your leg at the knee. When tight, these muscles restrict your movements, including those of the pelvis. Your pelvis should have a slight anterior tilt, but tight hip extensor muscles don't allow the pelvic bone to move forward.
Hamstring Stretches
Stretching your hamstrings is as simple as bending over and touching your toes. However, other exercises are also effective. You can stretch your hamstrings lying on your back, and pulling a straightened leg toward your chest. You can also raise your leg and place your heel against an object, then straighten your leg. This stretch can be performed standing up or lying down. Regardless of the stretches you choose, seek doctor approval first, and follow the guidance of a professional trainer to avoid injury.