Warm and comforting, soup is the perfect pregnancy meal. Canned soups in your grocery store aisles can be filled with fat, sugar, sodium and other ingredients that aren't good for you and baby. Packaged soups also tend to be low in nutrients. With a little prep, you can make healthy soups at home rich in the nutrients you need for a healthy pregnancy.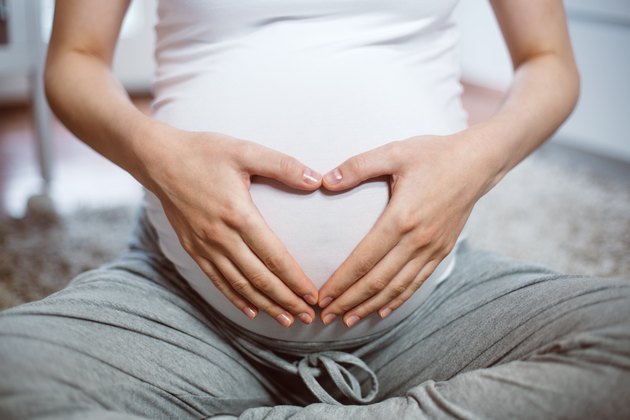 Vital Nutrients During Pregnancy
According to the American Pregnancy Association, the most important nutrients for expectant mothers are protein; vitamins A, E, D and C; thiamin; riboflavin; vitamins B6 and B12; folate; calcium; iron; and zinc. Each of these nutrients provides benefits related to the growth and development of your baby and keeps you healthy during pregnancy.
Protein contains the amino acids that build all the tissues of the body.


71 g* Vitamin A aids the growth of bones and teeth.


770 mcg* Vitamin D works with calcium to support bone health.


15 mcg* Vitamin C boosts the immune system and helps the body absorb iron.


85 mg* Vitamin E aids red blood cell formation.

15 mg* Thiamin helps create energy from food and regulates the nervous system.


1.4 mg* Riboflavin provides energy and contributes to healthy skin and eyesight.


1.4 mg* Niacin promotes healthy skin and digestion.

18 mg* Vitamin B12 aids DNA synthesis and may prevent neural tube defects.


2.6 mcg* Vitamin B6 helps morning sickness and red blood cell formation.


1.9 mcg* Folate supports the placenta and prevents birth defects, including spina bifida.


600 mcg* Calcium builds healthy bones and teeth, supports nerve function and prevents blood clots.


1,000 mg* Iron builds healthy blood and protects against anemia, low birth weight and premature birth.


27 mg* Zinc aids in the production of insulin and enzymes.

List of Healthy Ingredients
If you choose the right ingredients for your soup, one bowl can help you meet the daily requirements for many of these nutrients. Examples of healthy ingredients and their nutrients include:
Other nutritious soup ingredients include kale, cabbage, peas, broccoli, beets, chickpeas, zucchini, chickpeas, okra, leeks, onion and tomatoes.