Dulcolax, also called bisacodyl, is a laxative medication that treats constipation by helping you have a bowel movement. If you are breastfeeding, it is important to talk with your doctor about using Dulcolax because some medications pass into your breast milk. When your baby nurses, he might ingest small amounts of Dulcolax, which can be detrimental to his health and growth.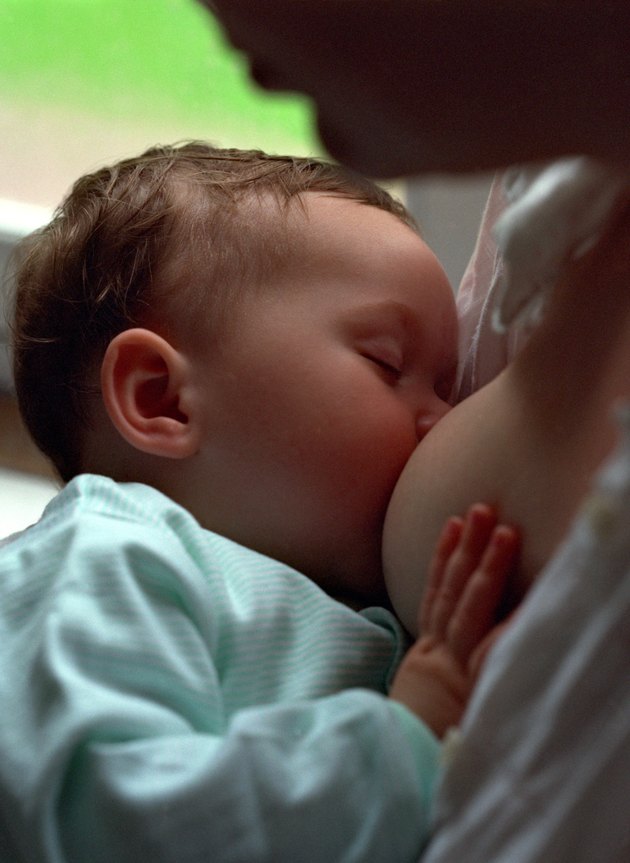 Function
Dulcolax is available in two forms, oral and suppository. The medication works by softening your stool, helping it pass through your intestines and out of your body, relieving symptoms of constipation. Dulcolax also works by stimulating your rectal muscles, helping your body have a bowel movement. The medication is typically prescribed for short-term use. Both types of Dulcolax work for constipation; personal preference or a doctor's recommendation helps determine the appropriate version for you.
Safety
According to Drugs.com, no evidence is available regarding the effect of Dulcolax in breastfeeding infants. In addition, little research is available regarding the effect of Dulcolax on milk supply. Despite this lack of information, Drugs.com calls Dulcolax safe for most breastfeeding mothers. For these reasons, talk with your doctor before using Dulcolax while breastfeeding to ensure the safety of your baby and prevent problems with nursing.
Dosage
Dulcolax is available over-the-counter, but the Mayo Clinic website urges breastfeeding mothers to follow the package directions and their doctor's advice closely when using the medication for constipation. If you choose the oral version of Dulcolax, your dose is likely to be one pill when needed, often before bed. The rectal version calls for one suppository when needed. In general, the suppository form of Dulcolax works more quickly, providing relief sooner. Drugs.com cautions you to stop using the medication after 7 days, unless your doctor prescribes otherwise.
Considerations
Dulcolax might not be the right choice for all breastfeeding mothers. Dulcolax may reduce the effectiveness of other medications, particularly when taken at the same time. Don't take more than the recommended amount of Dulcolax because you might experience muscle cramps and diarrhea. Side effects of the medication include drowsiness, swelling, cramps, lowered potassium levels and rectal bleeding. It might also cause a drop in appetite; lowering your food intake can interfere with milk supply. Hives, rash and difficulty breathing indicate an allergy to Dulcolax. Contact your doctor or seek medical attention right away if you or your baby experience any of these side effects after taking Dulcolax. When taking Dulcolax, it is important to increase your fluid and fiber intake to help regulate digestion and prevent dehydration.