According to Viagra.com, the mild side effects of Viagra include headaches, flushing of the face and an upset stomach. Occasionally a man will experience a blue tinge in the vision, blurry vision or sensitivity to light. These mild annoyances usually pass quickly and can be treated with home remedies. Talk to your doctor about reducing Viagra dosage by half or one quarter if you suffer serious side effects. You may be able to take a smaller dose and still experience the positive effects.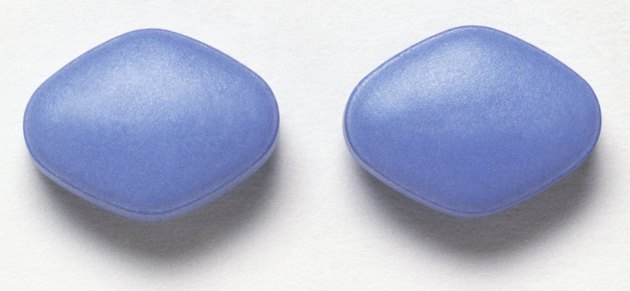 Step 1
Treat a headache with over-the-counter pain relievers such as Tylenol, Aleve or even aspirin, depending upon the recommendations of your doctor. Be sure to drink plenty of water when you take a pain reliever, because mild dehydration also causes headaches. A severe headache may happen, in which case you should definitely reduce your dosage.
Step 2
Treat flushing of the face by applying cool cloths to warm skin or moving into a cooler room. Step back from the activity of the moment and take time to breathe deeply and relax. This will probably reduce the redness in your face. Deep, relaxing breathing will also help slow down your heart rate if you experience a racing pulse while taking Viagra.
Step 3
Treat an upset stomach and heartburn with over-the-counter medicines such as TUMS and Pepto-Bismol. If you have taken Viagra before and know you will suffer heartburn or upset stomach, take a dose of Pepto when you take the Viagra.
Step 4
Treat sensitive eyes by avoiding bright lights and driving while taking Viagra. These symptoms are usually quite mild and will often pass within an hour or two of taking the drug. If blurred vision, blue colored vision or sensitivity to light are severe, talk to your doctor about changing the dosage of your medication or trying a different erectile dysfunction intervention.
Tip
Address the underlying cause of your erectile dysfunction under the supervision of your doctor or psychiatrist.
It is recommended to take Viagra on an empty stomach, but this may increase negative side effects.
Warning
Never take a medication that was not prescribed directly to you.
If at any time your symptoms worry you, call a doctor.