Hitting the tanning bed to get that sun-kissed bronze color on your skin can wreak havoc on your hair. You probably remember to protect your eyes while under the eye of the electric sun, but your hair needs protection as well. Just like the sun, a tanning bed emits UV rays which can dry out the hair and lighten the color of dyed hair. If you choose to use a tanning bed, make sure to show your strands a little extra love before hopping in the booth.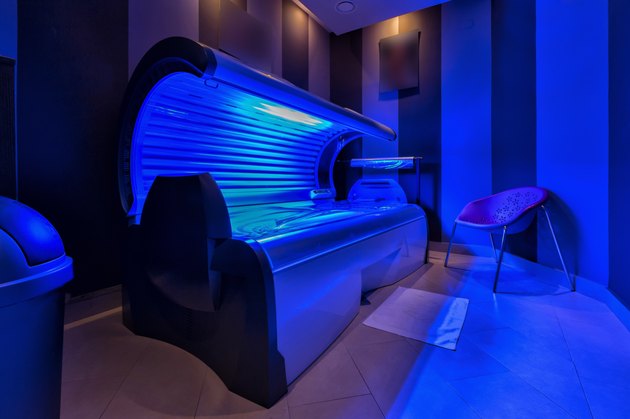 Step 1
Pull your hair back in a ponytail and wrap it up on the top of your head. Place a breathable shower cap over your head, covering all of your hair. Many tanning salons offer these caps for purchase.
Step 2
Wrap your hair up in a towel as you would after bathing. Make sure the towel covers all the strands of your hair.
Step 3
Put sunscreen on your scalp if you won't have your head covered. Just like when you're out in the sun, your scalp is vulnerable to burning. Lather up your scalp with a sunscreen that has an SPF of 12 or higher 30 minutes prior to tanning to help prevent burning.
Step 4
Apply a heat-protectant product to your hair prior to getting in the tanning bed. This is especially important if you won't be covering your head with a cap or towel. Look for styling products, deep conditioners and heat-protectant sprays that contain UV protection to help prevent damage to your hair. Make sure to apply the product to all of your hair, starting at the scalp and roots and moving down through the ends, to make sure all of your hair is thoroughly coated.
Things You'll Need
Hair cap

Sunscreen containing an SPF of 12 or higher

Towel

UV-protection styling product, heat-protectant spray or deep conditioner
Tip
If your hair has already been damaged by indoor or outdoor tanning, apply a deep-conditioning hair mask once a week to help replenish moisture and strengthen the strands.
Warning
The UV rays from a tanning bed can cause skin cancer. The Melanoma Foundation of New England notes that people who tan in a tanning bed once a month prior to the age of 35 have a 75-percent increased risk for melanoma, the deadliest type of skin cancer. Every 50 minutes, someone dies of melanoma.