If you cannot do a standard pushup, do not do knee pushups. Elevate your upper body on a chair or bench, but practice standard pushup form. In this position, you are pressing or pushing up about 50 percent of your body weight. A standard pushup utilizes around 65 percent of your body weight as resistance. If your lower body is elevated, about 75 percent of your body weight is transferred to your hands and pushups become harder. Constantly challenge your core, chest, triceps and shoulders so that they can put out more force and you can crank out more pushups.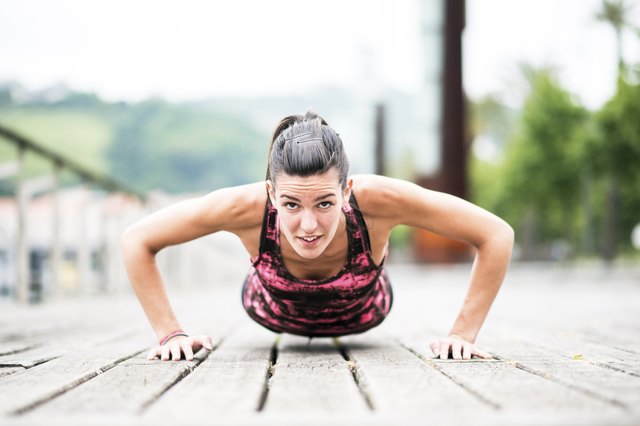 Create a Workout Routine
Step 1
Write down a routine that incorporates other exercises to help you reach your pushup goals. Since pushups are a percentage of your body weight, you want to increase your overall strength without necessarily getting heavier.
Step 2
Put special care into exercising your triceps, chest, shoulders and core.
Step 3
Only workout the muscles from Step 2 every three days to allow for optimum recovery and strength gains.
Step 4
Follow your routine for three to six weeks.
Working With Your Max
Step 1
Discover your maximum pushup count by doing as many pushups as you can without stopping for a break. It is critical that you are able to maintain correct pushup form all the way to failure.
Step 2
Regularly do 60 to 80 percent of your max. If your max pushup number is 50, than you want to regularly do 30-40 pushups
Step 3
Always improve upon where you start. Recheck you max about once a month, and always attempt to push it at least 2 reps further.
Add variety and difficulty
Step 1
After three to six weeks of doing a standard pushup, change things up to challenge the muscles in a different way.
Step 2
Try a couple different pushup variations, but focus on the standard pushup since you want to do 1000 of them.
Step 3
Begin to incorporate plyometric -- clap pushups -- and holds into your standard pushup sets. If you can regularly perform 60 pushups by this point, then start with five clap pushups before cranking out the remaining 55. Or, hold the first five pushups for five seconds each. Hold the bottom or the middle of the pushup position.
Step 4
Work with the holds and plyometrics for another three to six weeks, keeping the variations and other exercises in your routine
Keep Increasing Difficulty
Step 1
Keep doing the first five reps with plyometrics or holds, but place a dumbbell or weight plate against your upper back for the first five reps again. Have your partner help keep the weight steady and have them remove it before you continue your set. If you don't have a partner, perform a full set of standard pushups with the weights on your back and a full set without.
Step 2
Focus on improving your endurance as much as you can by kicking out more pushups every week you workout.
Step 3
After you have been improving for 12 to 15 weeks, start working out your pushup muscles every other day, but keep the routine the same. Increase how many pushups you do every week by one to ten.
Step 4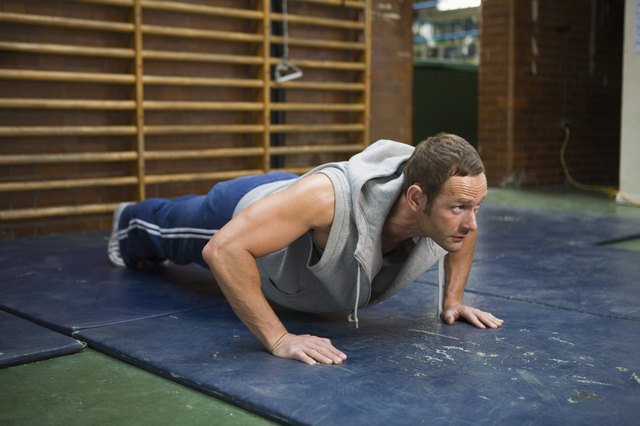 Keep increasing your number until you reach 1000
Things You'll Need
Weight plates or dumbbells

Weight machines or a gym

A partner
Tip
When testing your max, have someone watch your form to make sure you aren't sagging your back or shoulders when you get tired. Perform three to four sets of your standard pushups. For plyometrics and holds, increase the number you do whenever possible. Take a few extra days off every month or so to maximize recovery.
Warning
Do not arch your back. Do not sag your shoulders. Do not hold your breath at any time.