Early Symptoms
The earliest symptoms of an HIV infection typically occur between two to four weeks after the initial infection. This is because it takes time for the virus to infect enough cells to begin spreading throughout the body and affect your health. According to the University of California (San Francisco), these early symptoms usually resemble the flu and last for a short time. These flu-like symptoms include a fever, headache and a sore throat. Some patients also develop a rash (which can occur anywhere on the body) or have swelling of their lymph nodes, the easiest of which to find are the ones on the neck and just below the patient's jaw. Some patients develop no symptoms or have symptoms so mild that they are ignored. It's possible during this time to transmit the disease to other people through bodily fluids.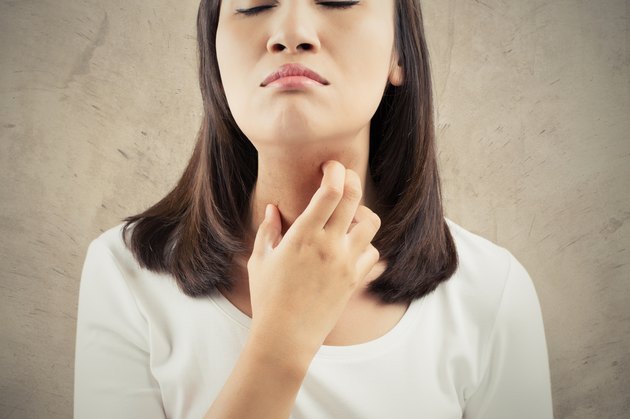 Later Symptoms
The Mayo Clinic says that after the initial symptoms of HIV, many patients experience a long period (up to 10 years) during which they display no other symptoms of infection. This is because it takes the virus a long time to infect enough immune cells to cause further complications. Once these symptoms begin, they may include diarrhea, shortness of breath or a cough, sudden weight loss and a fever. Patients also experience swollen lymph nodes. It's not clear whether these symptoms are directly caused by the virus or if they're a result of frequent mild infections that develop as a result of the immune system's gradual destruction.
Late-Stage Symptoms
Late-stage symptoms of HIV are the result of the immune system being almost totally decimated by the virus. This stage can take 10 or more years to develop and is defined by the Centers For Disease Control and Prevention as the patient having CD4 lymphocyte counts of 200 or less (which is a measurement of immune cells in the blood) or developing opportunistic infections. Opportunistic infections are caused by fungi or bacteria that normally don't cause illness because they're fought off by a healthy immune system. The weakened immune system of a person with late-stage HIV/AIDS, however, is susceptible to such infections as Pneumocystis carinii pneumonia, toxoplasmosis and tuberculosis. Symptoms of these infections include night sweats, a fever of more than 100 degrees F for a week or more, unusual spots or lesions on the tongue or in the mouth, as well as chronic diarrhea and distorted vision.